Hansbrough is the key for Missouri this week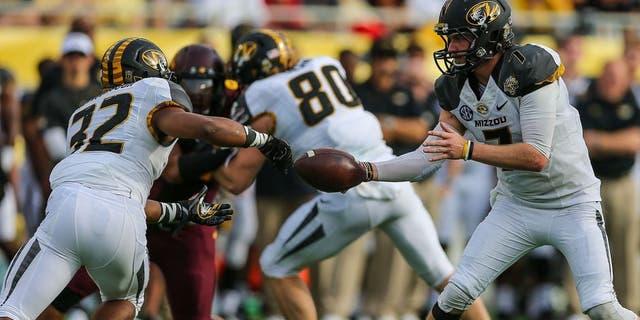 NEWYou can now listen to Fox News articles!
Can Hansbrough outplay Sony Michel? Jim Dedmon USA TODAY Sports
With Missouri's offense struggling, it needs to rely on Mr. Reliable this week at Georgia.
Senior running back Russell Hansbrough has been battling a balky ankle for the duration of the season. As a result, it's undoubtedly had an adverse affect on Missouri's offensive output.
Gary Pinkel's team ranks towards the bottom of the conference in most offensive categories.
Against Georgia this weekend, Hansbrough's effectiveness (or lack thereof) will be a massive determiner as to how well the team will perform.
If he's running without any noticeable discomfort, it adds a completely different dimension to the offense. Freshman quarterback Drew Lock wouldn't feel pressured to win the game with his arm. Hansbrough's potentially brilliance running the ball would also help things in the passing game from a play-action standpoint.
His play in recent weeks is an encouraging sign. Hansbrough rushed for 43 yards on 11 carries versus South Carolina, and scampered for 74 yards on only nine carries last week in the loss to Florida.
His battle against Georgia running back Sony Michel will also be fun to watch. Should Hansbrough out-gain Michel, Missouri has a great shot at pulling the upset.