Hanley Ramirez, Pablo Sandoval unlikely to change positions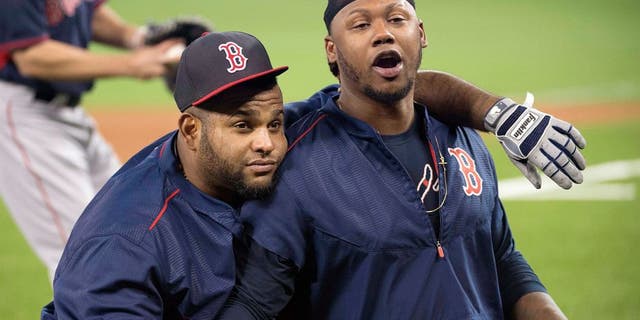 The Boston Red Sox made some big splashes this past offseason, signing both Pablo Sandoval and Hanley Ramirez.
So far, it hasn't gone as planned.
Sandoval has struggled at the plate and Ramirez has been somewhat of a defensive liability playing left field full-time while also being inconsistent at the plate. In the short-term, however, it seems as though there won't be any changes to on defense.
"He's the third baseman," Cherington told the media on Sandoval. "He's working hard and we're working hard with him to try and get the most out of the next two months, both sides of the ball, offensively and defensively. He's doing what he needs to do to be a part of that, too, so no changes there."
And Hanley's up-and-down year at the plate?
"I think there have been times his swing has gotten big," said Farrell. "This is something a number of us have spoken to Hanley about, trying to get some sense of the approach at the plate. He's typically been such a good line-drive hitter and a high number of doubles, almost 2-to-1 doubles to home runs. And yet right now that's reversed."
As of now, it seems the team will move forward as planned.
(h/t MLB.com)