HAMMOND: Want To Win Chase Races? Check The Fuel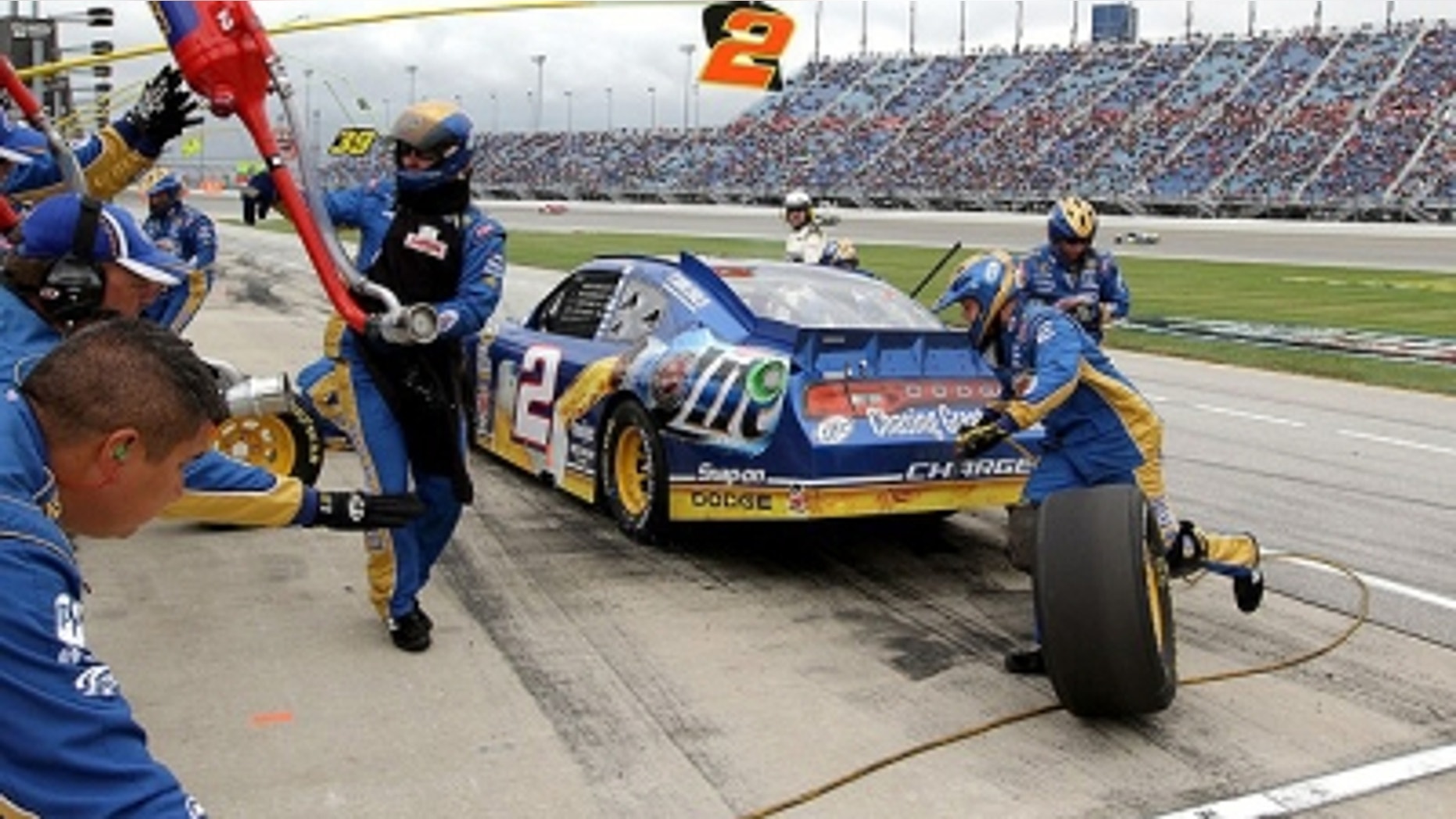 Back when I raced, fuel mileage wasn't that big of a deal. We used to have enough regular cautions that it wasn't like every time you lined up to take the green flag that was No. 1 or No. 2 on your list of things to think about, because you knew the way it was going to kind of come down.
Not anymore.
Today, I look at fuel mileage as just part of the equation each and every week. These teams work with it, they understand it and they're sharp enough that they shouldn't be surprised when it is a factor in a race. If anybody says he was surprised by a fuel-mileage race at any racetrack, whether it's Martinsville, a road course, Talladega this upcoming week, then shame on him.
You should always, in the back of your mind, know that today, with the guys you're racing, it's always there as a potential factor in a race.
When you look at the Penske Racing group, they've done a really good job after they had some issues the first part of the year with their race cars. The Dodges were the most susceptible to this new fuel-injection stuff and they really struggled with it. Because of what they were able to learn there, they're doing a much better job of not only developing fuel mileage and still maintaining power, but they're picking up all the fuel out of the fuel cell, too.
That showed Sunday when Brad Keselowski won the race and others had to make a late pit stop for fuel. Really, It's a great job by crew chief Paul Wolfe and everybody over at Penske to factor that in in such a way that they can put themselves in position to take advantage of a fuel-mileage race each and every week.
You've heard Jeff Gordon, you've heard Clint Bowyer, you've heard a lot of drivers pointing right straight at those guys and saying, "They're better than us. We've got to get better." Fuel-mileage issues in a race today, that's as commonplace as making the call on two tires and four tires during a pit stop. That was starting to evolve when I was crew chief. I remember being involved in four fuel-mileage races in my career, and fortunately I came out on top in three of the four.
It's frustrating, and sometimes nail-biting, because you want to make sure you've got your calculations right. And the thing that's so different today than back in my day is they can do it even more effectively because of the information that's available. They know what they are getting as far as fuel mileage and because of the way everything is kind of programmed now, they've really got a good tuning tool in fuel injection that gives them a definite advantage over someone like myself and the way that Stevie Waltrip and our group did it back in Darrell Waltrip's heyday.
So when do you start telling the driver to conserve? The only way you're going to be able to handle that is realizing that when they drop the green flag and those numbers start coming up, you look at the board and say, "Hey I'm going to be five, six, seven, maybe 10 laps short, could I, if things work out, stay out and make it work? Can I stretch it enough?" It's got to be automatic. The only way the driver can help you is he's got to start doing it immediately.
If you listened to the conversations on Sunday, the Gibbs' cars had led much of the race, most notably Kyle Busch, who was hammer down. He was running hard and when he got the call that they might need to save something, well he was too far down the road to be able to do much good. "I've already messed that formula up. We're not going to pick up seven laps the way I've been racing."
It has to be, between an engineer, a crew chief and a car chief, the three of them, when this happens and you look at that scoreboard and you know is there somebody like a Brad Keselowski that has in the past been able to go further than anybody else, it ought to be like a light comes on. Uh-oh, we've got to start saving fuel, we've got to change our strategy.
If you don't believe that, look what Alan Gustafson did with Jeff Gordon, look at what Mark Martin did. What did they do? They came back to pit road when they got the opportunity to top off with fuel.
It's got to be automatic. If you are in the business we're in today, it's got to be automatic. Even us in the television business, we start doing the math backward so we can tell people at the truck, "Hey this could turn out to be a fuel-mileage race, let's get ready for it, start listening to the radio chatter." We start doing things backward and forward like we're sitting on top of a pit box to be able to anticipate somebody pulling that rabbit out of their hat.
That's really what we're looking at now, it's got to be automatic, and the good ones do it. Jimmie Johnson and his guy got together pretty quick and he got Jimmie a fourth-place finish. It didn't take crew chief Chad Knaus very long, he knew, "Hey, you've got to slow down to get home."
They played their game right Sunday and finished fourth, they just needed a little more work to be able to race with Keselowski.