HAMMOND: Time To Go For Broke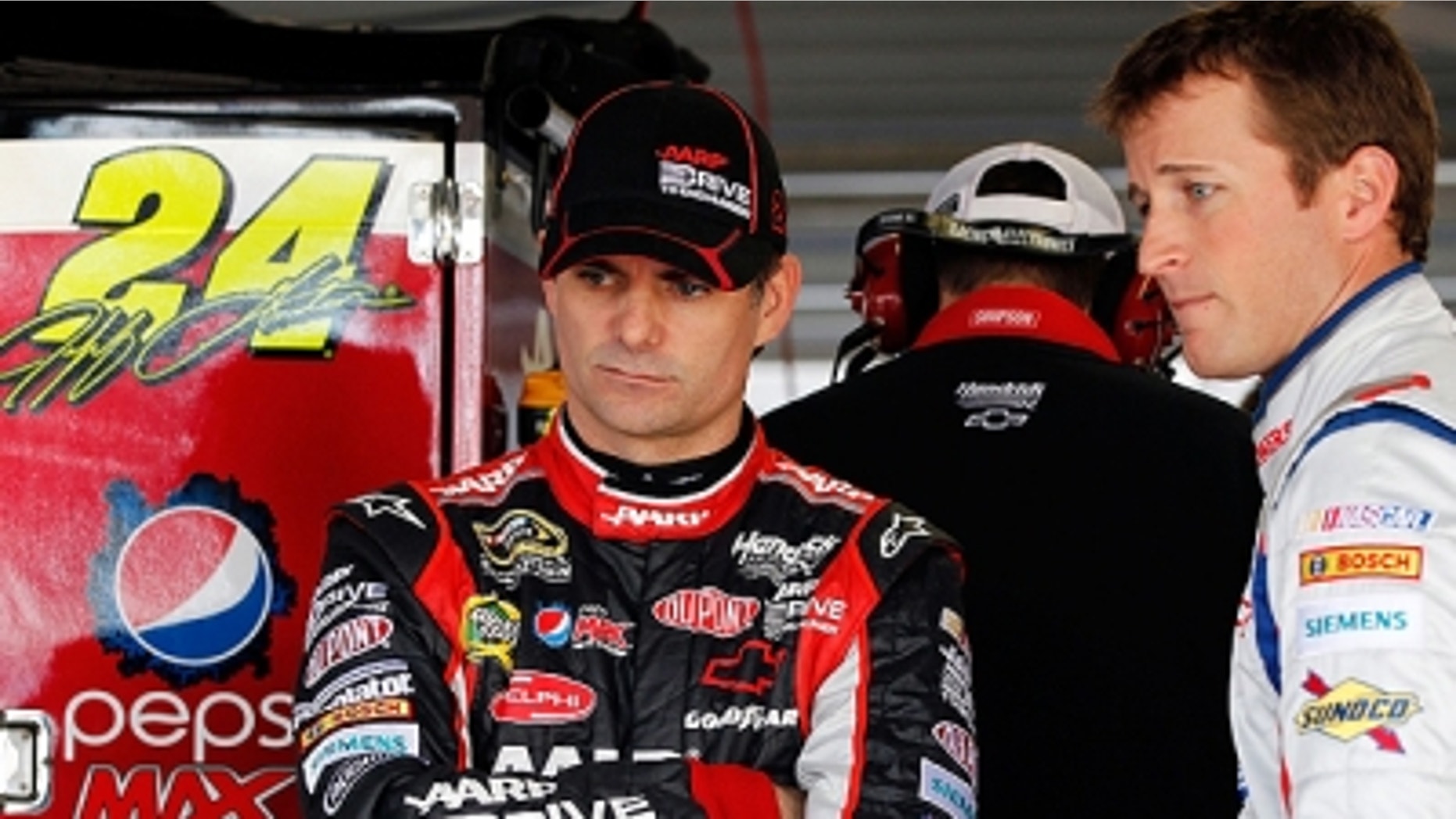 After Saturday night's race at Darlington, guys like Kasey Kahne find themselves on the way up in the points race, while guys like Jeff Gordon continue to go backward. Both are currently on the outside looking in, when it comes to making the 2012 NASCAR Sprint Cup Chase.
They both know they need to focus on getting some wins under their belts in hopes of securing one or both of the wild-card spots in this year's Chase for the Sprint Cup. Realizing that still doesn't make it any easier on them. They both have a clear understanding that when it comes to winning in NASCAR, it simply isn't easy.
Just when you think you have things figured out, it goes away with the snap of your fingers. Look how well Jeff Gordon was running at the end of the Bristol race. He easily had a top-five car, but then his tire gets clipped by his teammate, Dale Earnhardt Jr., and his day is ruined.
Or, look at the Martinsville race. You had three Hendrick cars up front. All three needed a win. All three were trying to be the one to give car owner Rick Hendrick his 200th NASCAR Sprint Cup victory. However, in the blink of an eye on that late-race restart, all three were out of it.
So a guy like Jeff Gordon, who is way back in the points and knows he needs to get a couple wins under his belt for a spot in the Chase, realizes that just because he needs it there is no guarantee it is going to happen. Now the good thing for Jeff and for Kasey is they are both proven winners. They know how to find their way to Victory Lane.
Both guys know they have to start swinging for the fence each and every race. They have to race until the Chase cut-off in Richmond in September like every race is the last race. With that though also comes a balancing act.
The wild-card requirement to make the 2012 Chase is you have to be in the top 20 in points and be the first two drivers with the most wins who are not in the top 10. So let's say your "go-for-broke" mentality snags you a couple wins but it costs you valuable good finishes in the other races. It doesn't matter if you have two wins under your belt if you are 25th in points because you won't be qualified for the one of the two wild-card spots.
So my point is without balance, that type of attitude can have a cut-both-ways effect. Brad Keselowski is a perfect example from last year. He won at Kansas but was outside the top 20 in points. If it had stayed that way, Brad wouldn't have been in the 2011 Chase. Luckily for Brad that wasn't how it played out. He ended the season with three wins and finished fifth in the Chase.
Across the board, a Truck race on a Friday, a Nationwide race on Saturday, a non-points race or a points race on Sunday – a win is a huge confidence builder to a driver. It's a reaffirmation that he can still get the job done. Like the old joke goes in our sport – he or she hasn't forgotten how to drive.
Let's be fair, it also is reassurance to a sponsor, an owner, a crew chief and a race team that they still have a wheel-man. It shows them their driver is one of the best. There really is an elite group of drivers in our sport that realistically can win each week and at every track we go to. So it doesn't matter what series it is in, that boost of adrenaline that driving into Victory Lane gives you is immeasurable.
This weekend, with no points on the line but a cool $1 million waiting to be taken, is a great stepping stone for what might be a magical two weeks in Charlotte. While the All-Star race pays a lot of money, you also simply can't ignore that it is a great test session for the Coca Cola 600 the following weekend.
I know as a crew chief, you are always looking for positive momentum that you can use on your driver and your crew. I don't care if you are a Steve Addington, who already has a couple wins under his belt, or a Steve LeTarte, who is trying to get that first season win. Your goal is momentum and finding ways to constantly feed it to keep it going.
This is the kind of weekend that guys like Jeff Burton, Kevin Harvick, Jamie McMurray and Juan Pablo Montoya, who all have had nothing to hang their hat on all season, something that can begin to turn their season around.
I mean I hate to use the word desperate, but we are almost a third of the way through the 2012 season and the reality is there are some teams out there on the verge of being desperate. So yes, they would love nothing more than to capitalize on this Saturday night's money race to swing for the fence and let it happen.