Haley's speech casts sad light on Seau's absence at HOF inductions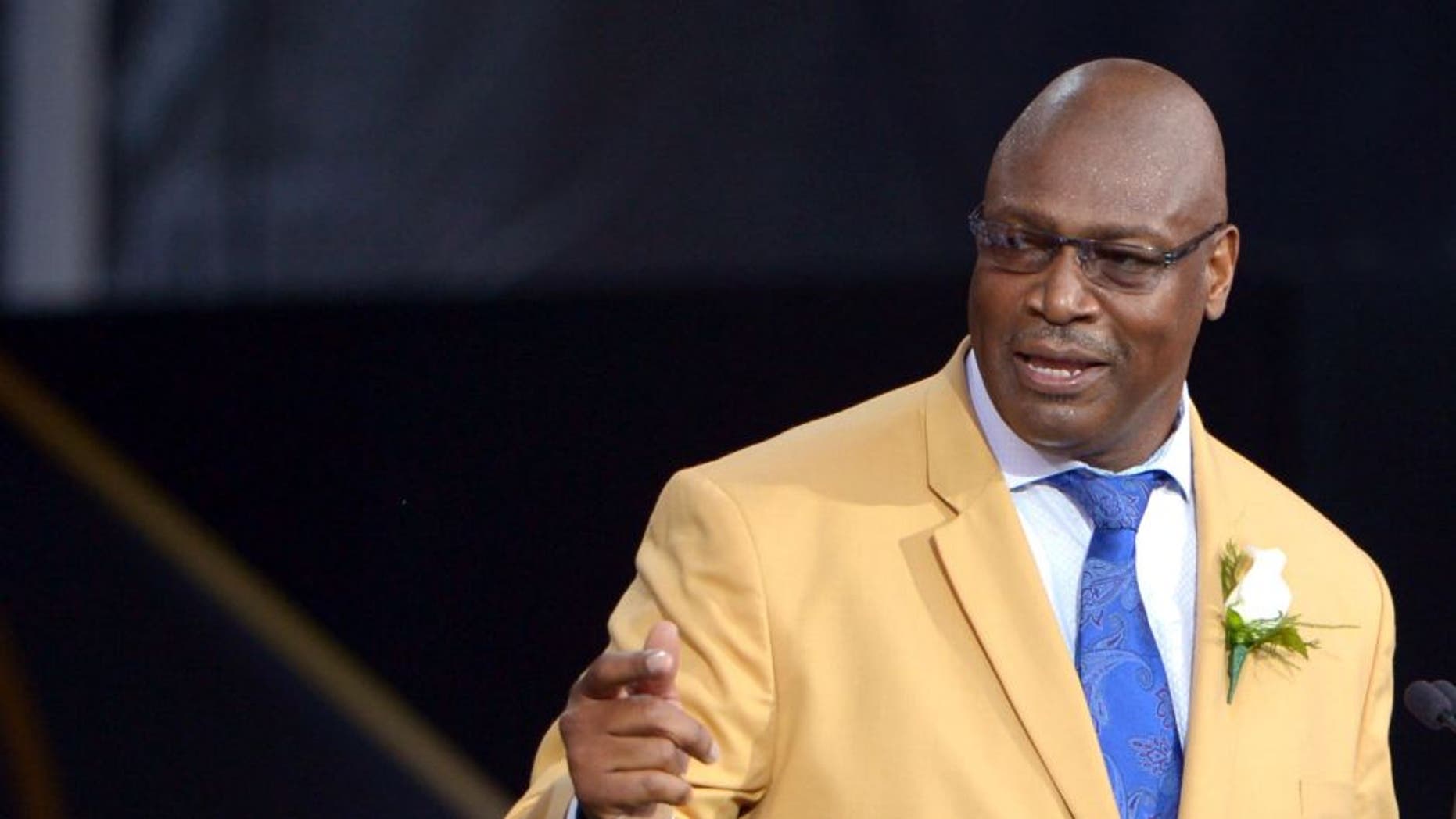 Three members of the 2015 Pro Football Hall of Fame class had to deal with mental health issues.
Only one was able to discuss them during Saturday night's induction ceremony at Tom Benson Hall of Fame Stadium.
Ex-San Diego linebacker Junior Seau committed suicide in 2012 at the age of 43. Mick Tingelhoff, the 75-year-old former Minnesota center, is battling dementia and memory loss. Ex-Vikings quarterback Fran Tarkenton spoke briefly on his behalf.
That left Charles Haley. An intimidating outside linebacker with San Francisco and Dallas in the 1980s and 1990s, Haley admitted to the crowd of 21,755 that his life "spiraled out of control for years" because of his refusal to seek treatment for bipolar disorder.
"I walked into the league a 22-year-old man with a 16-year-old inside of me screaming for help and I would not ask for it," Haley said.
Neither did Seau. He wasn't officially diagnosed with depression, but clearly things weren't right in Seau's life after a 20-year NFL career ended.
Seau's absence cast a pall upon Saturday's ultimate celebration of his gridiron accomplishments and led to his 21-year-old daughter Sydney speaking for the family after his bust was unveiled.
"I want nothing more than to see you come on stage, give the speech you were meant to give, give me a hug and tell me you love me one last time," an emotional Sydney Seau said of her father. "That isn't our reality."
Junior Seau's life began spiraling out of control once he stopped playing. Some of the decline may have stemmed from the struggle common among ex-players trying to transition into a much different reality than the NFL world.
Seau loved the game in every sense of the word. He was usually the first player inside the facility every morning, arriving early to make the coffee and get in his workout before starting a long work day. His game-day passion and enthusiasm set the tempo during his time with San Diego, Miami and New England.
"He was just the ultimate competitor," Sydney Seau said during the 6 1/2-minute induction video that was prefaced by a moment of silence. "At no time did he never give anything but all of himself during every play and in practice. It's why so many people respected him."
Seau didn't know anything else but football nor was he prepared for what was to follow. This was reflected in August 2006 when Seau retired and then returned four days later to sign with the Patriots.
Seau quit again three years later. But this time, there was no coming back. At age 40, Seau's body didn't have enough left to keep playing even if he wanted.
It turns out that Seau's head wasn't right either. An autopsy revealed Seau had chronic traumatic encephalopathy, which is the degenerative brain disease that can stem from concussions. Tingelhoff may have the same condition but there isn't a test yet that can detect CTE in the living with absolute certainty.
Although never officially diagnosed with a concussion on an NFL injury report, it would be naïve to think Seau hadn't suffered any following the thousands of collisions he was involved in. The studies showing the likelihood of an increased CTE level in football players compared to the general populace are plausible as well.
During her post-induction speech, Sydney Seau declined to address the circumstances surrounding her father's passing or the wrongful death lawsuit filed against her family by the NFL. The filing, which claims the NFL's inability to properly diagnose Seau's brain damage contributed to his death, is still being litigated.
Sydney opted instead to celebrate her father's love of football. She reminisced about the good times. She beamed about Seau becoming the first player of Polynesian and Samoan descent to enter the Pro Football Hall of Fame. About a father who was "everything."
Unfortunately, that man had changed from Sydney's childhood by the time of his passing. In a 2013 interview with Frontline, Sydney Seau said her father's behavior was different before his death. Sydney said he had begun suffering from memory loss and experienced mood swings that brought outbursts of anger.
The first major warning signs came in October 2010 when Seau was arrested on a domestic violence charge. Hours later, Seau's vehicle went off a cliff. Seau, who escaped major injury, insisted that he had fallen asleep at the wheel rather than having tried to kill himself.
Considering his later suicide, Seau might not have been telling the truth.
If the rumors and whispers surrounding his personal life are accurate, other difficulties that Seau was experiencing also contributed to the mess he was becoming.
During the induction video, Sydney Seau said one of the reasons her father was the perfect match for football is that both are "stubborn, relentless and hard-hitting." That same stubbornness led Seau to believe he could handle all of his problems without turning to others who could provide support.
As Sydney Seau said in her post-induction interview, "I know at times it seemed as if everything you accomplished in life wasn't enough."
Haley can relate to much of what Seau went through. Signs of bipolar disorder became evident early in Haley's own NFL career. This led to emotional outbursts and locker-room behavior that sometimes became violent or obscene.
The bad reputation that Haley built may be a big reason why it took the only player with five Super Bowl rings and so much pass-rushing success (100.5 career sacks) a full decade to get voted into the Hall after becoming eligible for induction.
Haley said Saturday night that his ex-wife Karen first diagnosed him with manic depression (i.e. bipolar disorder) in 1998 when his NFL career was winding down.
"I thought she was just like the group of guys that wanted to always put me in this box," Haley said. "We had problems after that. I never really listened nor did I step up to plate and do something about it."
He finally did. Haley, 51, has recovered to the point he is working with children afflicted with mental illness. Haley also has tried to help mentor NFL players in hopes they can avoid some of the same mistakes he made.
As funny as his 12-minute speech was at times -- including wisecracks about Cowboys owner Jerry Jones complete with an exaggerated Arkansas accent -- Haley's biggest point was stressing the importance of tackling mental-health issues with the same urgency that helped him crush quarterbacks.
"I take my medicine every day and I try to inspire others to do the same," Haley said. "That's because I finally listened.
"I am getting back into the locker room, to my teammates, and tell guys the mistakes that I've made. The only way that you can grow is that you've got to ask for help."
If only Junior Seau had, the tears from his family would have flowed for a different reason on Saturday night as they listened to him speak.