Guy, Brooks, Jones, Strahan, Reed, Williams, Humphrey elected to Pro Football Hall of Fame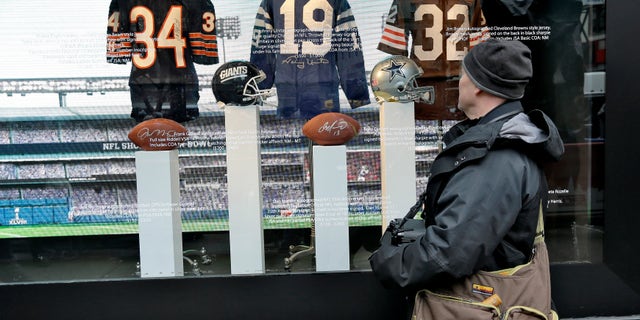 NEW YORK – Ray Guy is the first punter elected to the Pro Football Hall of Fame.
Joining the long-time Oakland Raider were two first-time eligible players, linebacker Derrick Brooks and offensive tackle Walter Jones.
The class of 2014 also included defensive end Michael Strahan, receiver Andre Reed, defensive back Aeneas Williams and defensive end Claude Humphrey, who like Guy was a senior selection.
The announcement was made Saturday night at NFL Honors, less than 24 hours before the Denver Broncos meet the Seattle Seahawks in the first Super Bowl in a non-domed stadium in a cold-weather city.
Among the finalists who didn't get in were two with ties to the Indianapolis Colts and current Broncos quarterback Peyton Manning — coach Tony Dungy and receiver Marvin Harrison.
Each of the incoming Hall of Famers walked to the stage and was announced individually. Strahan, who helped the Giants make two Super Bowls, got a huge cheer from the home crowd.
Induction will be on Aug. 1 in Canton, Ohio.
Guy turned the punting job into a defensive weapon after he became the first player at his position to be selected in the first round of the draft in 1973. He made "hang time" part of the football vernacular while playing all of his 207 games in 14 seasons with the Raiders.
The Southern Mississippi product averaged 42.4 yards, falling under the 40-yard bar only during the strike-shortened 1982 season. Only three of his 1,049 punts were blocked, and he set an NFL record with 619 in a row without a block. He had 209 punts downed inside the 20-yard line, including 77 in his final three seasons.
Brooks was the cornerstone of a Bucs defense that led the league in 2002 and '05, and the NFC five times. He was the AP Defensive Player of the Year when Tampa Bay won its only Super Bowl after the 2002 season.
The linebacker never missed a game in his 14 seasons and averaged a remarkable 146 tackles. Six of his 25 interceptions were returned for touchdowns, including a league-record three in '02. He holds Tampa Bay records for tackles in a game (23), defensive TDs in a season (four), career starts and games, and tackles (2,196).
Seattle certainly got a winner when it moved up to the No. 6 spot in the 1997 draft to take Jones. He immediately provided blindside protection for Warren Moon and quickly became the first Seahawks lineman to earn a Pro Bowl spot. He was one of the chief road graders who helped Shaun Alexander rush for 266 yards in a 2001 game — the fourth-highest total in NFL history — and then rush for a team-record 1,880 yards and 28 TDs in his MVP season in 2005.
Strahan set the NFL record for sacks in a single season, getting 22½ in 2001. The one most people remember is the record-setter in the final game of the regular season, when Green Bay's Brett Favre seemed to lay down on a play late in the game.
While there is controversy about that play, the gap-toothed Strahan was one of the top two-way defensive ends. Younger teammates said he taught them how to work to become NFL players, and he walked away from the NFL after winning the Super Bowl in February 2008.
Reed came out of little Kutztown (Pa.) University and played his first 15 seasons with Buffalo, getting to four Super Bowls, but never winning one. His final season was with Washington. His 951 career receptions are third in league history, highlighted by nine consecutive seasons of 50-plus catches.
Long before people spoke about yards after the catch, Reed was doing it. He finished with 13,198 yards and 87 touchdowns.
A walk-on at Southern University, Williams was a shutdown cornerback in his 14 NFL seasons, the first 10 with the Cardinals and the last four with the Rams. He had 55 career interceptions, getting at least one in every season except his last. He had five or more in picks in six seasons, with nine being his best in 1994.
Williams shared the NFL record for longest fumble return with a 104-yarder for a touchdown against Washington in 2000, his last year with the Cardinals. He started at cornerback for the Rams in the 2001 Super Bowl and played safety in his final two seasons.
The Hall of Fame doors finally opened for Humphrey on his 28th year of eligibility and his fifth as a finalist. The durable six-time Pro Bowl pick had 122 career sacks in 14 seasons with the Falcons and Eagles, who acquired him after a brief retirement in the 1978 season. His 14½ sacks in 1980 helped the Eagles reach the Super Bowl.
___
AP NFL website: www.pro32.ap.org