Grizzlies get Clipped, Playoff Ride Ends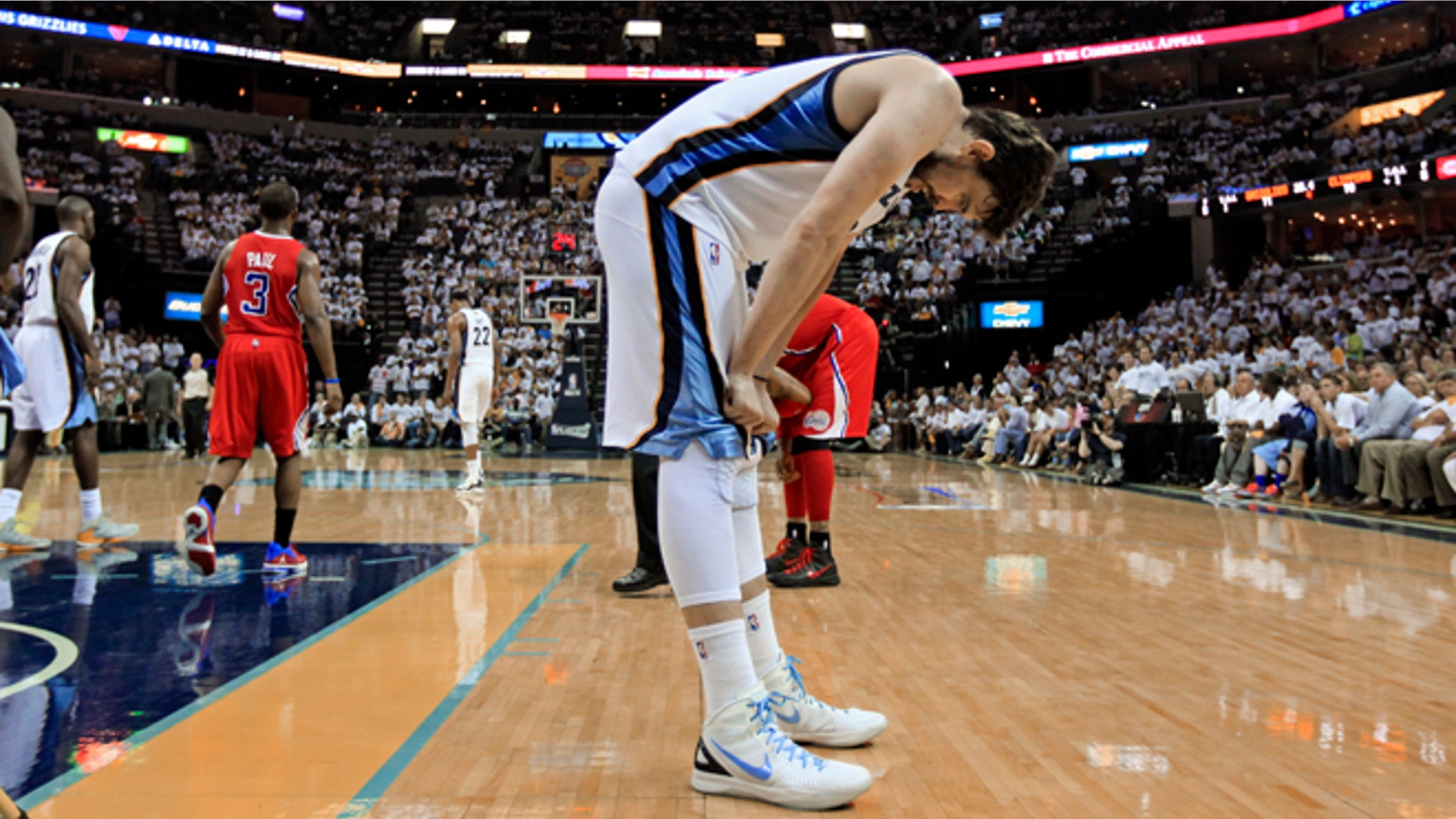 With Blake Griffin and Chris Paul playing with injuries the Los Angeles Clippers went out and showed the Memphis Grizzlies they just weren't a two man team.
Kenyon Martin's 23-footer put the Clippers ahead to start a fourth quarter in which backups scored 25 of their 27 points, helping Los Angeles' other NBA team beat Memphis 82-72 Sunday and advance to the Western Conference semifinals.
"Our bench was our MVP," Clippers guard Randy Foye said. "They realized what they had to do. We had a lot of guys hurt, so we just continued to grind."
The Clippers reserves outscored Memphis' bench 41-11 to help Los Angeles clinch its first playoff series since 2006 and only the franchise's third overall. They also helped the Clippers avoid becoming the ninth NBA team to blow a 3-1 lead in a best-of-seven series and now they head to San Antonio for a second round starting Tuesday night.
Clippers coach Vinny Del Negro said they will regroup Monday and focus on the Spurs then. He wanted his team to enjoy the series win for a little bit.
"But obviously another big challenge for us," Del Negro said.
Chris Paul scored 19 points despite his strained right hip flexor, and he was the only starter to score in the fourth quarter. Paul was so confident of victory he bought plane tickets for his wife and son to San Antonio on Saturday.
"I felt like we should have won earlier," Paul said. "But it doesn't matter. As long as you win, I think it is a step in the right direction for our franchise."
Rudy Gay and Marc Gasol each had 19 for Memphis, which lost a Game 7 at Oklahoma City a year ago in the second round of the playoffs. Zach Randolph had a game-high 12 rebounds.
"Unfortunately, no one on the bench stepped up and helped us," Memphis coach Lionel Hollins said.
The Clippers had missed two chances to clinch this series, including an eight-point lead in the fourth quarter Friday night. That's why Martin huddled the Clippers together at the start of the fourth quarter Sunday to make sure it didn't happen again.
"They did what they had to do, they came and stole home court back on our floor...," Martin said. "We had a chance to close it out. We knew we let it go, an opportunity get away."
The Clippers trailed 56-55 after three quarters until Martin's jumper started an 11-2 run, and they led by as many as 11 down the stretch. Los Angeles finished off the win by hitting 9 of 10 free throws in the final 3:26. The Clippers also managed to outrebound the Grizzlies 46-44 for only the second time this series.
Memphis got away from the inside-out approach that won the last two games. The Grizzlies outscored the Clippers 36-24, but Randolph said they took far too many jumpers instead of feeding the ball to Gasol and himself.
"You have to take your hats off to them because they played good," Randolph said of the Clippers. Chris had a good game, and their bench played terrific."
The Grizzlies also went cold at the worst time. They hit a series-low 32.5 percent (25 of 77) Sunday and only 4 of 18 in the fourth. After Gasol drove through the lane for a one-handed dunk with 3:09 left, Memphis didn't score another field goal. They missed all 13 3-pointers.
"It was Game 7 pressure and jitters," Hollins said. "We wanted to do well. We just wanted to let it rip. You walk up here and have two strikes on you in the ninth inning and you have to let it rip. And we didn't."
The Clippers and Grizzlies scrapped and fought for every ball with each possession feeling like a knockdown, drag-out fight. Memphis should have had an advantage against the hobbled Clippers, who were tipping off when they usually eat breakfast on the West Coast. Blake Griffin scored only eight points and looked tentative before spending all but 99 seconds of the fourth on the bench cheering.
"It's partly the way our second group was playing," Griffin said. "When I came back in, there was a play where I got caught. I couldn't do what I wanted to do physically. I don't want to dwell on that. My teammates did an unbelievable job, and it's a great feeling to get that first series win."
And the Grizzlies are done after wasting their first home-court advantage by blowing a 27-point lead in the opener and then failing to tap into the energy of a sold-out crowd in the decisive seventh game. Gay called it very frustrating to lose in the first round after taking Oklahoma City to seven games in the second round last year with the 27-point blown lead the sore spot.
"This series would've been totally different if we had won that game," Gay said.
Based on reporting by the Associated Press.
Follow us on twitter.com/foxnewslatino
Like us at facebook.com/foxnewslatino