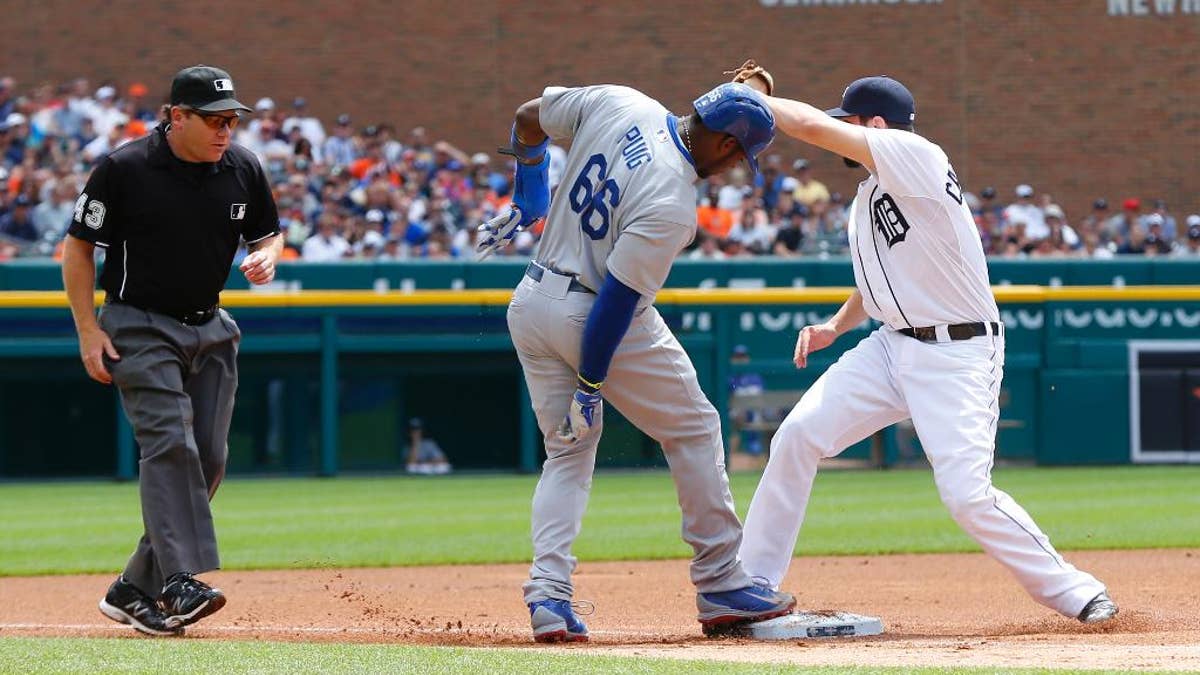 DETROIT – Don Mattingly wouldn't mind a rematch.
The Los Angeles manager knows full well that if his Dodgers face the Detroit Tigers again this year, it can only happen in the World Series, so despite Wednesday's 4-1 loss in Motown, Mattingly would be happy to return.
"We'll take that right now, and I'm sure the Tigers would, too," Mattingly said. "We'd love to be here again."
The Dodgers split two games against the Tigers in Los Angeles in April, and Detroit swept the two-game series this week. Max Scherzer pitched seven impressive innings Wednesday, outdueling Zack Greinke and lifting the shorthanded Tigers.
Detroit was without sluggers Miguel Cabrera and Victor Martinez, but the AL Central-leading Tigers scored two runs in the first inning against Greinke, and Scherzer (11-3) made the lead hold up. The All-Star right-hander allowed a run and four hits. He struck out seven and walked two.
"He's a great pitcher, and he showed why again today," Dodgers second baseman Dee Gordon said. "You don't get many chances against him, and when you do, he's got so many pitches that he's able to throw that you can't just sit on something."
Joba Chamberlain struck out two in the eighth, and Joe Nathan fanned two in a perfect ninth for his 18th save in 23 chances.
Greinke (11-5) allowed three runs and seven hits in seven innings. He struck out eight without a walk.
"You look at their lineup today, and you think you are getting a break with Cabrera and Victor being out," Greinke said. "But they were putting up great at-bats all day. I was throwing good pitches."
Miguel Rojas of the Dodgers hit his first career homer in the fifth.
Cabrera was given a day off by Detroit manager Brad Ausmus, and Martinez is dealing with a lingering back issue. The Tigers won without them.
Scherzer escaped a first-inning jam thanks to some impressive fielding behind him. Yasiel Puig hit a one-out triple, but with the infield in, Hanley Ramirez hit a sharp grounder to Eugenio Suarez, and Detroit's rookie shortstop threw quickly to third to catch Puig off the base.
"That was a great play," Scherzer said. "He just made an instinct play — saw Puig was off the base, and made a quick little snap throw. That just helped keep the game where it was."
Rajai Davis made a sliding catch in left field for the third out.
Austin Jackson opened the bottom of the inning with a triple of his own and scored on Ian Kinsler's single. Kinsler advanced to second on a wild pitch and scored on a two-out single by Don Kelly.
Greinke was sharp after that. Detroit scored again in the fourth on an RBI single by Nick Castellanos, but the Los Angeles right-hander retired the last nine hitters he faced, striking out the final four.
But the Dodgers couldn't overcome Scherzer. They put men on first and second in the third, but Puig hit into a double play. In the sixth, Puig hit a leadoff double, but the next three batters couldn't hit the ball out of the infield.
Matt Kemp went hitless with three strikeouts. He's now 0 for 21 against Scherzer.
Torii Hunter's sacrifice fly in the eighth gave Detroit another run.
NOTES: Mattingly says he doesn't plan any major changes to the lineup when OF Carl Crawford returns from a sprained left ankle. There could be a logjam with OFs Kemp, Puig and Andre Ethier also in the fold. "We're playing pretty well," Mattingly said. "We'll just talk about it with (Crawford) — let him know where everything is." ... Kelly drew the second intentional walk of his career in the eighth inning. ... Detroit faces Kansas City on Thursday night. The Tigers send LHP Drew Smyly (4-8) to the mound against RHP Jeremy Guthrie (5-7). ... The Dodgers return home to take on San Diego. Los Angeles ace Clayton Kershaw (10-2) faces RHP Odrisamer Despaigne (2-0) of the Padres.