Greinke frustrated with pace of recovery from oblique injury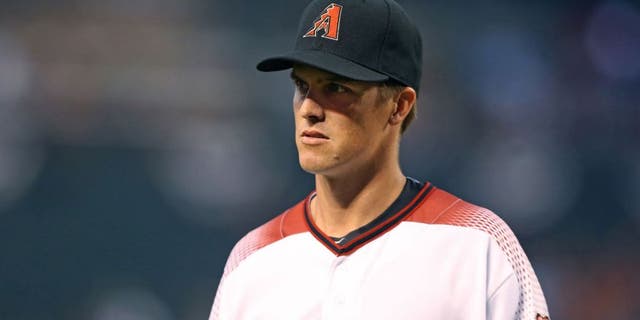 NEWYou can now listen to Fox News articles!
PHOENIX -- Zack Greinke said Wednesday that he's frustrated with the pace of his recovery from an oblique injury that has kept him off the mound since June 28.
Greinke originally had hoped to be ready to rejoin the rotation shortly after the All-Star break, but he had yet to throw off a mound prior to speaking with the media before Wednesday's game.
"It would have been nice to have been back a week ago," he said.
"It's just a bad injury where you have to wait for it to heal before doing stuff. I'm used to having stuff bothering me all the time and just going through it; with this one, you can't do that or it gets worse."
When asked if he was pain free, Greinke said: "That's a really good question but I don't want to answer it."
Greinke said he's progressed to where he's throwing between 120 and 150 feet.
"Yesterday was the first day I threw where I was close to throwing normal," he said. "Every other time, I was really babying everything."
Manager Chip Hale said Greinke was scheduled to throw off a mound "nice and easy" on Wednesday, and if that goes well, the first full bullpen will be in a couple of days.
"We'll be careful," Hale said. "He's the smartest guy I've been around in baseball. He knows his own body as good as anybody; he knows what it takes to be ready for a major league game.
"We'll lean on him a little bit, but I think we also have to protect him from himself, just like any other player."
Greinke said given the amount of time he's missed, it's "more than likely" that he'll need at least one rehab start in the minor leagues before returning to the rotation.
Greinke has a 10-3 record with a 3.62 ERA in 17 starts but had gone 10-1 with a 2.99 ERA since losing his first two starts as a Diamondback.