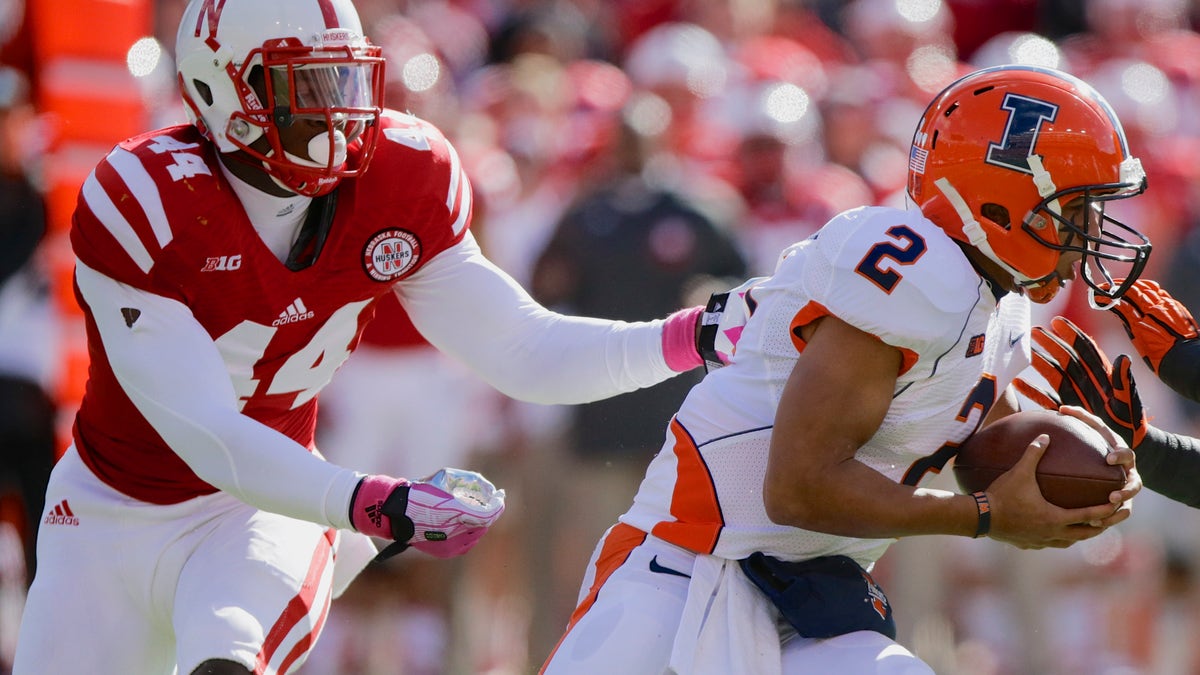 LINCOLN, Neb. – This week's game at struggling Purdue might not move the needle much for Nebraska fans. To the Cornhuskers' Randy Gregory, it's a red-letter game.
Gregory has become a fan favorite for his tenacious play at defensive end. To frustrated Purdue fans, Gregory is the in-state kid who got away.
The native of Fishers, Ind., signed a letter of intent with the Boilermakers in 2011, but had to go to junior college to become academically eligible. Coming off a big first year at Arizona Western, Gregory broke his left leg in the 2012 opener.
As Danny Hope's hold on the Purdue coaching job slipped, Nebraska and other schools swooped in to woo Gregory. He visited Nebraska the weekend of its win over Michigan and verbally committed four days later. Hope was fired three weeks after that, and Gregory said new coach Darrell Hazell never tried to re-recruit him.
Gregory wore a wide grin when he met with reporters this week. He said he couldn't be happier with the way things worked out, and it was a bonus when he took his first look at the schedule and saw an October road trip to West Lafayette, Ind.
"I know a lot of the guys on the team and was real good friends with the staff that was there before coach Hope left," Gregory said. "I went to a lot of games there, and a lot of friends I went to high school with go to school there. Big game for me. I hope I can play well, and hopefully we can come out with the W."
The 6-foot-6, 255-pound Gregory has started four straight games. He leads the defensive line with 25 tackles, including six for losses, and seven quarterback hurries. He's forced a fumble, broken up a pass and returned an interception 33 yards for a touchdown.
Gregory, who had nine sacks among his 82 tackles at Arizona Western in 2011, was brought in to beef up the pass rush. Teammates jokingly called him the "Sackless Wonder" after he went three games without being credited with bringing down a quarterback.
He looked to have a sack in the opener against Wyoming but was penalized for roughing the passer on a play when a pass wasn't attempted. He and Avery Moss teamed up for a sack in the fourth game, against South Dakota State.
Gregory said he's excited about the prospect of pursuing Purdue's new starting quarterback, Danny Etling.
"I want to get after every quarterback," Gregory said, "but the fact he's a freshman, I think, kind of makes it more fun for us. Hopefully we'll rattle him a little bit, hit him a few times, shake him up a little so he won't be as comfortable back there in the pocket."
Gregory originally pledged to Purdue because it was close to home and he was impressed with its history of developing defensive ends. Among them have been Rosevelt Colvin and Chike Okeafor in the late 1990s, Akin Ayodele, Shaun Phillips, Ray Edwards and Rob Ninkovich in the early 2000s, and Anthony Spencer, Cliff Avril and Ryan Kerrigan, all since 2006.
Gregory said he intended to honor his commitment to Purdue after his freshman year at Arizona Western. But after he broke his leg in the first game in 2012, he said, Nebraska defensive line coach Rick Kaczenski contacted him and an official visit was set up. By then Gregory had started to worry about whether the staff that recruited him to Purdue would be there in 2013.
"I came here and really enjoyed it. I really wanted to commit on the spot," Gregory said. "But I wanted to do it the right way, talk to the staff at Purdue and tell them how I felt about everything and then commit here. Then, lucky for me, the (Purdue) staff got fired ... and made it easier for me."
One of Gregory's big chores has been to line up tickets for more than a dozen friends and family who'll be in the stands at Ross-Ade Stadium. There also will be some familiar faces on the field.
Gregory said he's acquainted with most of Purdue's offensive linemen from the recruiting process with the Boilermakers. Starting left guard Devin Smith was his teammate at Arizona Western.
"If we run some stunts, some blitzes, I'll go up against him," Gregory said. "I'm sure I'll talk to him a few times."