Graham hopes to narrow battle for backup QB job at scrimmage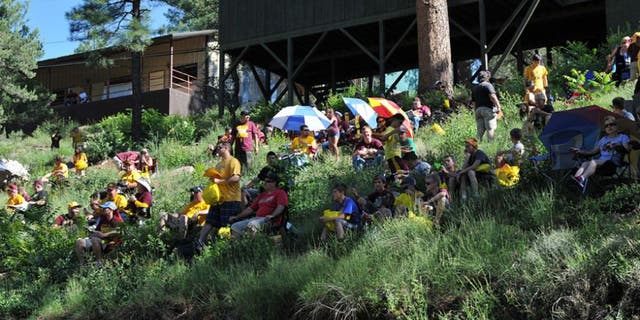 NEWYou can now listen to Fox News articles!
CAMP TONTOZONA, Ariz. -- Arizona State coach Todd Graham said narrowing down the battle for second-team quarterback will be a prime objective in Saturday's camp-ending public scrimmage.
Graham said he's been gratified with large turnout of fans throughout the stay at camp and said fans can expect "maybe two-thirds" of a game on Saturday. "It'll look a lot like a game," he said.
"Tomorrow will be pretty, pretty special," Graham said after Friday's practice, which focused heavily on third-down work. "We're excited to see Coach (Frank) Kush tomorrow."
Redshirt freshman Manny Wilkins and true freshmen Bryce Perkins and Brady White are competing for the job to back up senior quarterback Mike Bercovici, who's impresses Graham more and more by the day.
"The one thing maybe nobody pays much attention to is Bercovici has really, really improved dramatically for a guy that was already pretty good," he said.
Graham said it's important to identify the second team for all positions because practice time becomes more limited once the team returns to campus: "We won't rep the threes after we leave here," he said. "We won't have time."
Graham said the backup quarterback competition is "dead even" going into Saturday.
"Brady's done some really, really nice things," he said. "I like his demeanor. Bryce is the guy who's really stood out. His guys always score. He's got great leadership. Manny's obviously got more of a comprehension of what we're doing.
"We've got to get that narrowed down. Tomorrow we'll make a better evaluation of that."
Fans who are planning to attend the scrimmage are being advised to plan accordingly for travel delays.
The team will take the field at about 9:30 a.m., with practice scheduled to begin at 10.
Parking for the general public will be in a closed section on the eastbound side of SR260 near Camp Tontozona Road. As drivers approach mile marker 267 on Route 260, they shuold merge to the right and follow signs to the designated parking area. From there, they can walk into Camp Tontozona, though a limited number of shuttle carts will be available for those with limited mobility.
Alcohol, glass containers and pets are prohibited.