Goon Over Miami: Jets Assistant Coach Apologizes for Tripping Dolphins Player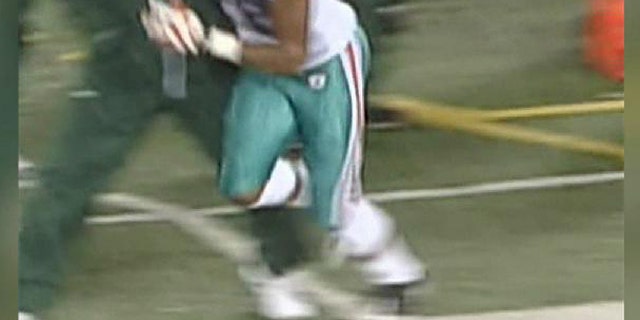 NEWYou can now listen to Fox News articles!
New York Jets assistant coach Sal Alosi apologized after blatantly tripping Miami's Nolan Carroll on the sideline during Gang Green's 10-6 loss to the Dolphins Sunday.
The strength and conditioning coach was ushered out of New Meadowlands Stadium by a staff member, ignoring interview requests by the New York Post and protected by two security members at an exit.
After the Jets confirmed he was the guilty tripper and the NFL announced it was reviewing the play, Alosi apologized.
"I made a mistake that showed a total lapse in judgment," Alosi said in a statement, adding that he apologized to Carroll and Dolphins coach Tony Sparano.
"My conduct was inexcusable and unsportsmanlike and does not reflect what this organization stands for. I accept responsibility for my actions as well as any punishment that follows."
"The team is reviewing the situation and is looking into the appropriate next steps,'' Jets media chief Bruce Speicht said in a statement.
During the third quarter of the game, Alosi -- on the sidelines wearing Jets raingear and white tennis shoes -- appeared to stick his left knee out and tripped Carroll as the cornerback ran out of bounds on punt coverage. Carroll fell and had to be attended to by medical staff on the Jets sideline, before eventually returning.
Alosi, who was wearing a green hat at the time, conspicuously switched to a black hat in the middle of the game. Then he took the hat off altogether.