Goldman: Boucher right, only choice for Flyers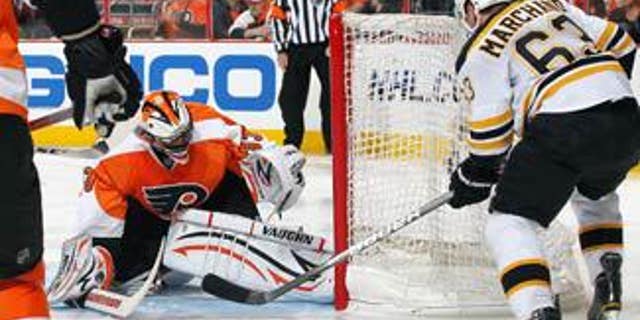 Our goalie expert is back for a look at the Flyers goaltending carousel, which has once agains settled on Brian Boucher for Game 2. Justin Goldman of The Goalie Guildt ells us why that is the only decision coach Peter Laviolette could make and what awaits Flyer fans later Monday evening.
Before the Flyers-Bruins series began, my big question for Brian Boucher was whether or not he could make the early saves in each game.
Unfortunately, my premonition came true. Boucher was beat just 1:52 into Game 1 by a quick David Krejci backhander, a goal that gave the Bruins all the momentum they would need to crush the Flyers, 7-3.
Boucher was later pulled in favor of Sergei Bobrovsky after allowing five goals on just 23 shots.
When a goalie fails to make early saves in a playoff game, the results are often disastrous. It can lead a goalie, regardless of age or experience, to tense up, over-compensate their angles and "fight" the puck. From there, the confidence quickly wanes and the mind processes many more negative thoughts than positives.
This is revealed in a nervous-looking goalie, one that often fails to read and react in a pure and sharp manner.
Following Krejci's goal, Boucher had that nervous appearance. He was hesitant and unsure of his positioning. He was caught looking the wrong way on a few shots and picked up others very late. Combined with Boston's concerted effort to get traffic in front of him, Boucher struggled to keep his eyes on the puck, absorb shots and control rebounds.
Overall, his performance in Game 1 was nothing short of soul-crushing for Flyers fans.
But none of that matters any longer.
Boucher, who I consider to be quite the wily veteran, has proven numerous times during his career that he can bounce back with motivating saves in the next game. Because of this, Peter Laviolette's decision to toss Boucher right back in goal for Game 2 was a pretty easy one.
But what will it take for Boucher to bounce back and spark his team to tie the series before it shifts to Boston?
Simply, a short memory, a more attentive start and a visible sense of composure.
Let's face it -- Boucher has been pulled in playoff games before. He knows what it takes to mentally prepare for a bounce-back game and he's been through plenty of ups and downs during his adventurous career.
And when compared to the alternative options, Boucher is clearly the best choice in goal as the series rolls along, with Bobrovsky backing him up. Michael Leighton is a good third goalie to have around, but in my opinion he's too withdrawn from the speed and pace of a Stanley Cup Playoffs game to be considered a quality option.
No, this situation is clearly not easy for Flyers fans to stomach. But Boucher definitely deserves another chance to bounce back.
All he has to do is make the early saves and the confidence, the composure and the clutch saves will come naturally.
Making the first save is one of the toughest and most important things for a goalie, at any age or level, to accomplish. But I have no doubt in my mind that Boucher has the experience and mental fortitude to learn from his costly mistakes in Game 1 and be one of the best Flyers in Game 2.