GM meetings notes: Heyward likely to land monster contract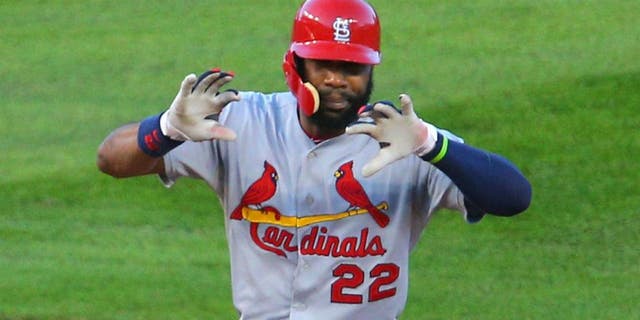 The average fan might think it's crazy that free-agent outfielder Jason Heyward could command a contract in the $200 million range.
But is it?
Based on Heyward's offensive performance, the answer might be yes. But past free-agent contracts for similar players suggest that $200 million actually might be realistic.
Jacoby Ellsbury signed a seven-year, $153 contract entering his age 30 season. Carl Crawford signed a seven-year, $142 contract entering his age 29 season.
I know what you're thinking: Neither of those contracts worked out well. Heyward, though, is only 26. Let's say he gets 10 years: Three on top of the seven that Ellsbury and Crawford received. Suddenly, he could approach, if not exceed, $200 million, especially given the inflation in the market.
Granted, Heyward had only 13 homers, 60 RBI and a .797 OPS for the Cardinals last season while playing right field, where teams generally prefer more power. His elite defense also is less valuable in right than it would be say, in center.
I can't say where his market is headed; even some progressive GMs find it difficult to envision a monster deal for a less-than-dominant hitter. Others, though, value Heyward for his all-around skills and overall contribution, which is reflected today in statistics such as Wins Above Replacement (WAR).
Two other thoughts on Heyward:
● His agent, Casey Close of Excel Sports Management, negotiated opt-out clauses for pitchers Clayton Kershaw and Zack Greinke.
A team could give Heyward an opt-out after three or four seasons and secure his prime years. If Heyward was reasonably productive, he likely would opt out and the team's commitment would end there.
● Alex Gordon, who also is represented by Excel, is similar to Heyward, only 5½ years older. For teams reluctant to pay Heyward top dollar, Gordon would loom as a reasonable left-handed hitting alternative.
The Cardinals could be one of those teams, particularly now that they might need to spend on starting pitching, too.
THE CRAZY BULLPEN TRADE MARKET
Executives continue to express surprise at the number of quality late-inning relievers available in trade, a trend first noted by Jon Heyman of CBSSports.com.
The list includes the Reds' Aroldis Chapman, Yankees' Andrew Miller, Pirates' Mark Melancon, Rays' Jake McGee and Brad Boxberger and Padres' Joaquin Benoit and possibly Craig Kimbrel, sources say.
Why the sudden willingness to move such talents?
One exec said it's not because teams no longer value relievers, the most volatile of baseball species. Quite the contrary; teams want to mimic the Royals, who rode the strength of their bullpen to two straight AL titles and a World Series title this season.
Another exec said the surplus of closer types on the trade market is a reflection of a shortage on the free-agent market. Circumstances play a role, too; Chapman and Melancon, for example, are entering their free-agent years.
MORE RELIEF IN KANSAS CITY?
At first glance, it sounds surprising that the Royals are trying to upgrade their bullpen. But according to sources, right-hander Darren O'Day and lefty Tony Sipp are among the free-agent relievers that the Royals have contacted -- and an addition hardly would qualify as overkill.
Among the Royals' right-handed relievers, Greg Holland will miss the entire 2016 season after undergoing Tommy John surgery, and Ryan Madson is a free agent. Among the lefties, Tim Collins will be returning from Tommy John surgery, Franklin Morales is a free agent and Danny Duffy could rejoin the rotation.
Sipp, then, could make particular sense, but a righty such as O'Day also could fit. The Royals' starters pitched the fewest innings in the AL last season, and the team again figures to rely heavily on its bullpen. Wade Davis, Kelvin Herrera and Luke Hochevar will return, but all pitched three rounds in the playoffs.
LOTS TO DO ON THE SOUTH SIDE
The White Sox continually draw trade interest on their starting pitchers, and some even prefer lefty Jose Quintana to Chris Sale, given the lower acquisition cost and more traditional body type and delivery, sources say.
Quintana, 26, is a bargain at $18.15 million over the next three seasons, and his contract also includes $10.5 million options for both 2019 and '20. The White Sox would need to be overwhelmed to move him, but considering their needs at multiple positions, they cannot rule it out.
Third base, second, shortstop, catcher and the corner-outfield spots all are potential areas of upgrade for the White Sox -- and yes, that means first baseman Jose Abreu and center fielder Adam Eaton are the only regulars with whom the Sox seem comfortable.
The White Sox's former shortstop, free agent Alexei Ramirez, attended the GM meetings on Wednesday, presumably to meet with clubs. Ramirez, according to one source, badly wants to rejoin the Sox, who declined his $10 million option. GM Rick Hahn has said he will not close the door on Ramirez's possible return.