GM meeting notes: Yankees face tough decisions, challenges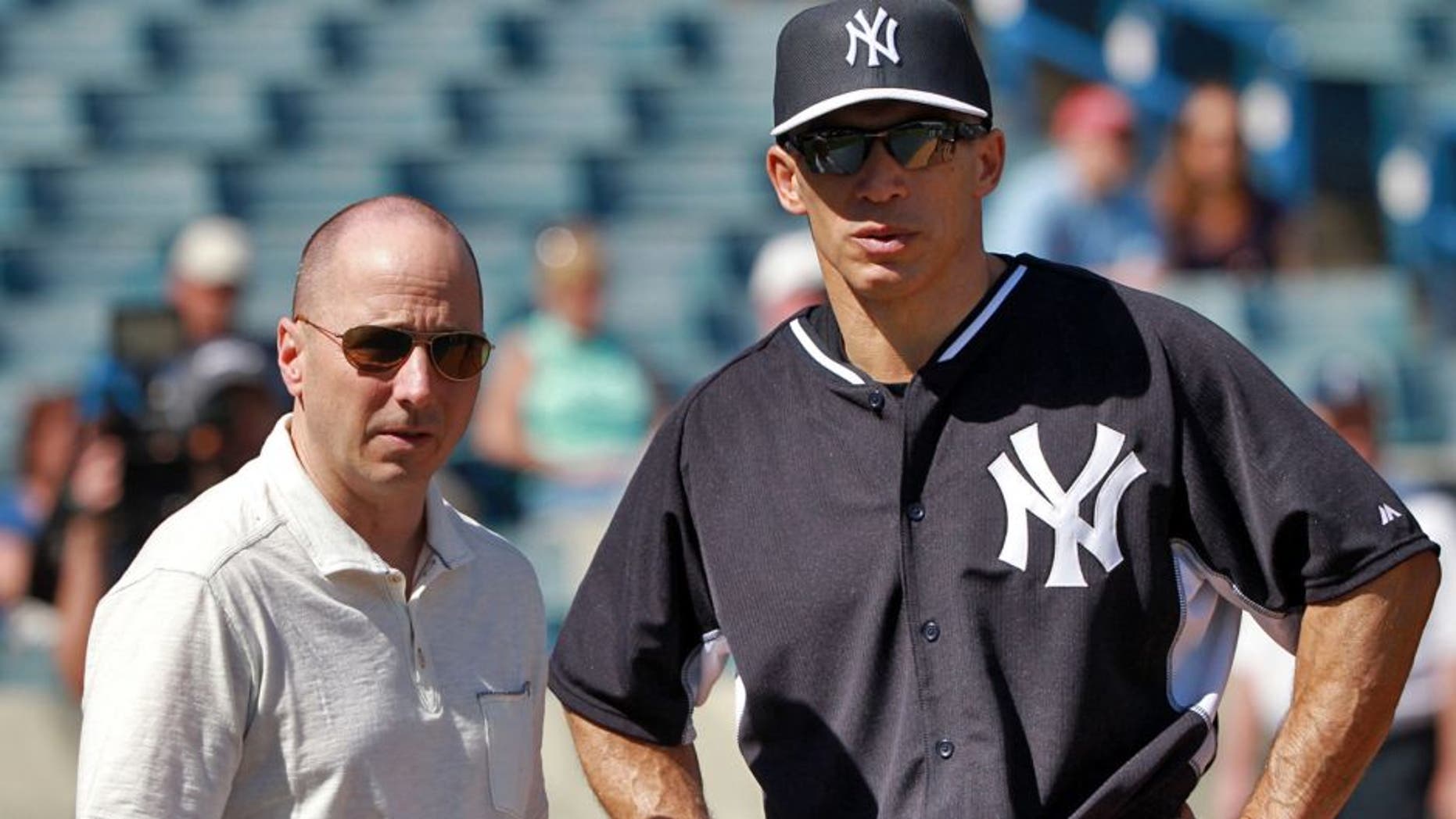 BOCA RATON, Fla. -- The Yankees' refrain is familiar. We lack financial flexibility. We want to keep our draft picks. We want to avoid going nuts in free agency, etc.
The team's position is reasonable -- the Yankees, after their experiences with CC Sabathia and even Masahiro Tanaka, are reluctant to invest long term in starting pitchers in their 30s. And, while they need a right-handed bat, they currently have no room in their outfield for Yoenis Cespedes or Justin Upton.
Still, even as general manager Brian Cashman says he is "open to anything" regarding trades, it would be difficult for the Yankees to justify sitting out a deep free-agent market when their future commitments are diminishing and their first draft pick is 22nd overall.
The free-agent market next offseason is not nearly as strong, and the Yankees' payroll commitments will drop from $183.7 million in '16 to $120.5 million in '17 after the contracts of Sabathia, Carlos Beltran and Mark Teixeira expire. The number will further reduce to $93.6 million in '18 after Alex Rodriguez is off the books.
Cashman has more prospects to trade than in past years, even if he keeps first baseman Greg Bird, right-hander Luis Severino and outfielder Aaron Judge. The GM could move a young catcher such as Gary Sanchez or J.R. Murphy and a young shortstop such as Jorge Mateo, among others. He also is willing to trade seemingly any veteran. CBSSports.com's Jon Heyman pointed out that moving closer Andrew Miller could be one option. Left fielder Brett Gardner could be another.
The bottom line is that the Yankees are transitioning to a younger team, but want to remain playoff-caliber. For that to happen, they will need to add a durable starter and another reliever in addition to a right-handed hitter. Good luck to Cashman trying to get all that done without dipping into the free-agent market.
AN ACE FOR THE ASTROS?
The Astros have made no secret of their desire to add a top-of-the-rotation starter to complement left-hander Dallas Keuchel, so I asked GM Jeff Luhnow if the team could play at the top of the free-agent market.
"I think so," Luhnow said. "It would have to be the right type of deal for us, but yeah, we're not ruling anything out at this point."
The Astros, remember, had the best offer for left-hander Cole Hamels in July, but Hamels invoked his no-trade clause to Houston to get to his preferred club, the Texas Rangers.
Can the Astros actually win the bidding for a David Price or Zack Greinke when they also might want to address first base and/or the back of their bullpen? Seems doubtful, but the team was full of surprises at the deadline, acquiring Scott Kazmir and Carlos Gomez, nearly landing Hamels and pursuing both Aroldis Chapman and Craig Kimbrel.
The Astros are set with five starting pitchers, not including Vince Velasquez, who will work as a starter in spring training, and Mark Appel, who is getting closer to the majors. Left-handed relief actually is a more pressing need. Tony Sipp, Oliver Perez and Joe Thatcher all are free agents -- and Sipp, in particular, could fare quite well on the open market.
GIANTS STILL HIGH ON BELT
Giants first baseman Brandon Belt, a subject of trade interest, would become a legitimate candidate to get moved if the team signed free-agent first baseman Chris Davis. But outside of that scenario, GM Bobby Evans still envisions Belt in the team's plans.
"I'm hoping to see him long term," Evans said. "You can't stop a club from asking for somebody. But there is a difference between asking and making a deal."
Evans described Belt as a defender with Gold Glove ability and a hitter who is a prominent threat in the Giants' lineup. Belt is still experiencing "residue" from the concussion that ended his season on Sept. 18, but doctors have instructed him not to alter his offseason program, Evans said.
Belt, whose career OPS is .803, has two years of arbitration remaining, and Evans said he was "open-minded" about trying to extend him.
Barring the arrival of Davis or the trade of Belt for a quality starting pitcher, it seems difficult to imagine that the Giants could be better without their first baseman, who will play next season at 28.
"I don't disagree," Evans said. "(Buster) Posey is our catcher, not our first baseman."
THE SEARCH FOR ATHLETICISM IN SEATTLE
The Mariners seem more inclined to trade for an athletic center fielder rather than sign a free agent such as Dexter Fowler, Austin Jackson or Denard Span.
Among the possibilities: The Cardinals' Jon Jay, who will earn $6.85 million in his final season before free agency; the Cardinals' Peter Bourjos, who could be non-tendered; the Rangers' Leonys Martin, who lost his job to Delino DeShields Jr., but is under club control for three more seasons; and the Red Sox's Jackie Bradley, if he becomes available.
The Cubs could wind up looking at similar types if they fail to re-sign Fowler. The team's current plan is to open next season with Kyle Schwarber in left and Jorge Soler in right.
NATS: INFIELDERS TO SPARE
Yunel Escobar, who batted .314 with a .790 OPS last season while playing third base for the Nationals, could be a trade option for teams looking for help at either third or short.
The Nationals' middle-infield mix also includes Danny Espinosa, their best defensive shortstop, plus shortstop prospect Trea Turner and second-base prospect Wilmer Difo.
It is not out of the question that the Nats could trade Escobar, who is under contract for $7 million next season with a $7 million club option in 2017, and sign another veteran middle infielder. Anthony Rendon will be at third.
AROUND THE HORN
● The Dodgers are interested in re-signing free agent Chase Utley to be a left-handed hitting option at both second and third base. Enrique Hernandez and Jose Peraza are the leading options at second if the team declines to resign free agent Howie Kendrick.
A major move for a position player is not necessary, though the Dodgers could pare down their current group; outfielders Andre Ethier and Carl Crawford each have two years left on their respective contracts.
● Don't be surprised if the Rockies wind up signing a pitcher who received a qualifying offer.
Their first-round pick, No. 4 overall, is protected, and the team also holds a competitive-balance pick after the first round.
Other teams with competitive-balance picks after the first round: The Reds, Athletics, Diamondbacks, Marlins and Pirates.
● The Brewers, under new GM David Stearns, are open to trading virtually anyone on their roster, but they need not rush into anything.
Right-hander Wily Peralta's value could be higher at the deadline, when there will not be a glut of free-agent starters available, and the same goes for catcher Jonathan Lucroy, who could rebuild his value with a big first half.
● Pirates general manager Neal Huntington said that he declined to make a strong run at Korean first baseman Byung-Ho Park in part because the team believes that Josh Bell will be ready to play the position in the near future.
Park fit the Pirates for 2016, Huntington said, but not necessarily beyond.
● Huntington also did not dispute a report by CBSSports.com that he could trade closer Mark Melancon, who is a free agent after next season.
As Huntington put it, roster turnover is always a challenge for low-revenue clubs, who must balance short- and long-term needs.
● Michael Hill, the Marlins' president of baseball operations, reports that Giancarlo Stanton is hitting the weights hard as he recovers from a left wrist hamate fracture.
"He's lifting small countries," Hill said.