Girardi sits Ellsbury, hears it from fans, gives it to media afterward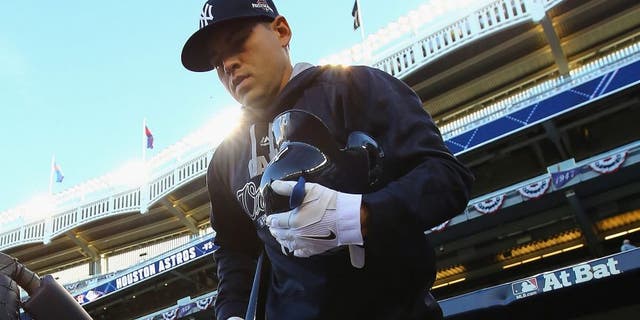 NEWYou can now listen to Fox News articles!
Jacoby Ellsbury sat the bench for most of his first postseason game after signing a $153 million contract with the New York Yankees. When he finally got in, he saw three pitches at the plate and one inning in center field.
Brett Gardner, who took Ellsbury's spot in center field and atop the batting order, struck out three times again left-hander Dallas Keuchel in the Yankees' 3-0 loss in Tuesday night's AL wild-card game. New York had just three hits, all singles.
"Does Jake hit three home runs and it's 3-3?" manager Joe Girardi wondered. "I don't know, but we didn't solve Keuchel the whole year."
Keuchel was 3-0 against the Yankees in 2014, allowing 11 singles and a double in 22 scoreless innings.
He was removed after six innings, and Ellsbury pinch hit and popped out against Willie Harris in the eighth. Ellsbury remained in for the ninth inning as the Yankees' playoff run ended shortly after it began.
Girardi said it was a difficult decision to sit Ellsbury, but he wanted to get right-handed-hitting Chris Young into the lineup.
"I told him I wanted to play, but then I let him know I'll obviously be ready to go at any point in the game and willing to do whatever it takes for this team to win," Ellsbury said before the game.
After the All-Star break, Ellsbury hit .220 with five homers and 23 RBIs and Gardner batted .206. But Gardner hit .263 against lefties over the span and Ellsbury .223.
When Gardner grounded out in the eighth, fans jeered the Yankees
"I don't know if they were booing me or booing the team or whatever," Gardner said. "They have the right to cheer or boo or do whatever they want. I know they're very disappointed and frustrated, and nobody is more disappointed and nobody's more disappointed the way I played than myself."