Giants' Nikita Whitlock continues to play offense and defense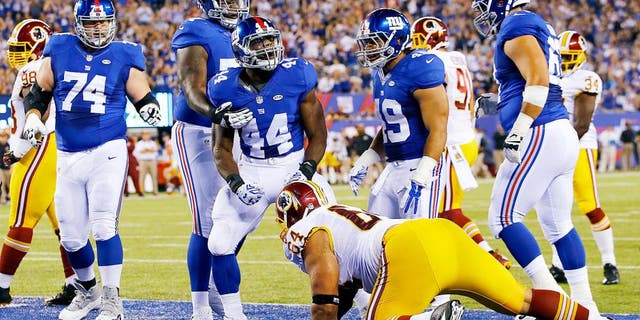 NEWYou can now listen to Fox News articles!
The New York Giants may have found a pass rusher in the most surprising way. Starting fullback Nikita Whitlock, who had played nose tackle in college, has been mixing in with the defense over the last two games. In Week 4, he got his first NFL sack on just eight total defensive snaps.
Whitlock also plays fullback and special teams for the Giants. In Week 4, he saw 23 special teams snaps and 14 snaps at fullback in addition to his eight defensive snaps.
Under offensive coordinator Ben McAdoo, the Giants do not use many personnel packages that feature a bullback, but teammate and Giants center Weston Richburg thinks Whitlock's true calling might be on the defensive line.
"I feel so bad for those guys who have to block that guy," Richburg said about Whitlock playing defensive tackle, per Tom Rock of Newsday. "He's a mismatch when he gets in there, especially at the end of games when guys are tired. It's fun to watch him, though. I'm extremely happy for that guy. He does a great job."
Whitlock has been playing in sub packages along the defensive line late in games for the Giants as a way to spell his fellow defensive linemen and add a spark. At just 5-foot-11 and 249 pounds, Whitlock has burst off the snap, and he plays with excellent leverage at the point of attack.
"I think there could be definitely, definitely some underestimation when he comes out there," Richburg said, "but right when the ball snaps and you see him get off, you figure out real quick that he's not going to be easy to block.
"He's got leverage, he's got speed, his get-off is great," Richburg said. "I've never seen his college tape, but I heard in college he was a force to be reckoned with, so you can obviously see him get the sack. I mean, he doesn't play defense and he goes in and gets a sack. I was so happy to see that. Very proud of that guy."
Don't expect to see Whitlock's role expand too much -- part of what has made him so effective has been the limited snaps. However, Whitlock clearly offers Giants defensive coordinator Steve Spagnuolo another excellent option for his pass defense.
MORE NEWS: Want stories delivered to you? Sign up for our NFL newsletters.