Giants' JPP: I know I'll get to Tom Brady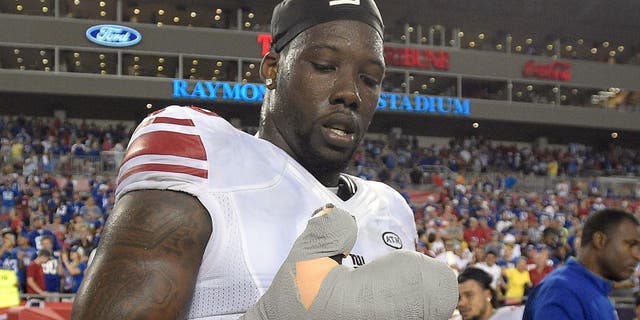 Jason Pierre-Paul is confident about his upcoming matchup with the Patriots. Phela Ebenhack AP Photo
New York Giants defensive end Jason Pierre-Paul stopped short of predicting that the Giants would deliver the New England Patriots their first loss of the 2015 season, but he's confident that he will put pressure on quarterback Tom Brady.
We're going to get to the quarterback, I know I am," Pierre-Paul told Giants reporters Wednesday..."Like I say, they're undefeated, but they have to come through here first."
Pierre-Paul also acknowledge that Brady was a great quarterback who is excellent at getting rid of the football fast to negate the pass rush. That hasn't stopped Pierre-Paul and the Giants' pass rush from getting to Brady before. In Super Bowl XLII, the Giants got to him early and often, forcing sacks and errant throws. Pierre-Paul acknowledged that was a different defensive line then.
"Yeah, it's a different group. It was me, [Justin] Tuck, Osi [Umenyiora], those are pass rushers," Pierre-Paul said.
The Giants will have to get it done in 2015 with their current group of edge rushers that includes Robert Ayers, Damontre Moore and George Selvie. The Giants are hoping that Pierre-Paul's return can spark the rest of the group up front.
(h/t Big Blue Interactive)