Giants' JPP FaceTimes 11-year-old who had fingers amputated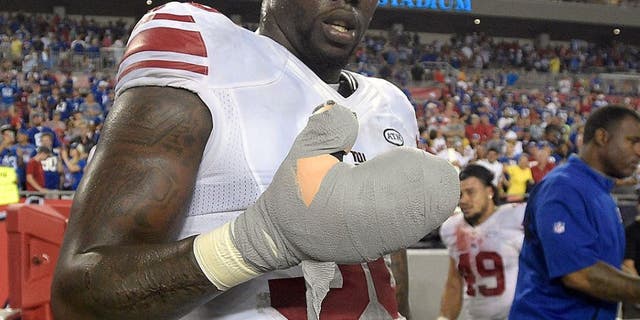 NEWYou can now listen to Fox News articles!
Jason Pierre-Paul is winning both on and off the field. M. Ebenhack AP Photo
New York Giants defensive end Jason Pierre-Paul is using his traumatic July 4th fireworks accident to help others who have experienced a similar fate.
Seamus Bohannon, an 11-year-old boy from Folsom, Pa., had his hand entangled in a bike chain on Nov. 3. Bohannon had to have part of two of his fingers amputated on just two days after the accident.
Bohannon's sister Janie reached out to Pierre-Paul via social media and requested he contact her brother to offer some encouragement. On Tuesday night, Pierre-Paul FaceTimed Bohannon on Tuesday night to do just that.
"This guy, he didn't have to do that," Seamus' mother, Christine Bohannon, said of Pierre-Paul's decision to FaceTime her son, per NJ Advanced Media. "We were just taken aback by it. My son is in his glory right now. Just the fact that someone was reaching out to him."
"It was a great thing for my son," she said. "The biggest thing was the smile. He couldn't stop smiling."
Pierre-Paul has fought back from his injury and he is once against starting at defensive end for the Giants. It's no coincidence that New York's pass rush has all of the sudden gotten a major boost since he returned to action. Pierre-Paul offered one lasting message for Seamus in his road to recovery:
"Stay strong. Stay tough and you have to work hard at it," Seamus' mother said.