Georgia defender compares Tennessee's Jalen Hurd to Todd Gurley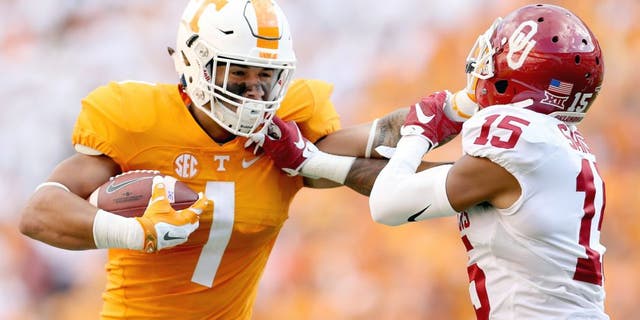 NEWYou can now listen to Fox News articles!
Tennessee's offense has been excellent on the ground this season, rushing for an average of 225 yards per game. While the team has looked good as a unit, one player in particular stands out.
After five games, sophomore running back Jalen Hurd leads the team with 489 rushing yards and eight total touchdowns. Hurd has averaged over five yards per touch despite touching the ball 111 times this season.
The numbers are impressive, but perhaps the highest praise Hurd has been given comes from his opponent this week, Georgia senior defensive lineman/linebacker Jordan Jenkins.
"I've always liked watching Hurd," Jenkins said. "I called him being one of the future great running backs last year and I feel like he gets better every game. It definitely makes it more difficult knowing that you've got a guy with that kind of speed and power with him. It sort of reminds me of Todd (Gurley) a little bit."
That's high praised coming from a former teammate of Gurley, the 10th overall selection in the 2015 NFL Draft.
Now entering his second season going head-to-head with Hurd, Jenkins has seen noticeable improvement from watching the film of Tennessee's leading rusher.
"I feel like he's put on a lot more muscle. He looks like he's about 230 or 240 (pounds) going into this season. His mechanics seem a lot smoother. He's fighting for more yards. Things are slowing down for him mentally and he's just taking advantage of that and showing his speed and athleticism."
Jenkins is quite the player himself, as he's already earned one SEC Defensive Lineman of the Week honor this season. Tennessee will likely be scheming up all week on how to block the senior Bulldog. If Tennessee's tackles can't effectively block Georgia's edge rushers, Hurd could be in for frustrating game.
The head-to-head matchup between Hurd and Jenkins should go far in determining the winner of this weekend's game. Gurley sealed the game away for Georgia in 2014, to be truly compared to the all-time Bulldog back, Hurd needs to do the same for the Volunteers Saturday.