Georgia DE Jonathan Ledbetter arrested for the second time in five months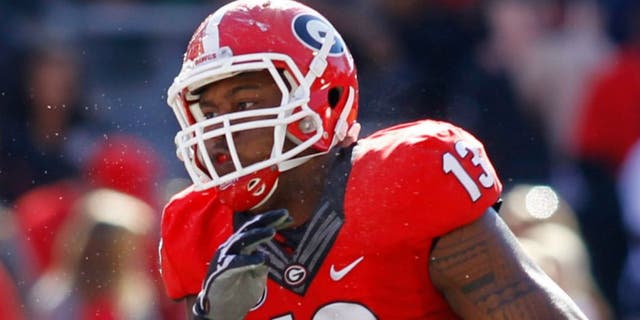 NEWYou can now listen to Fox News articles!
ATHENS, Ga. -- Georgia defensive end Jonathan Ledbetter has been arrested for the second time in five months on alcohol-related charges.
Ledbetter was released from jail Sunday morning on a $2,000 bond after Athens-Clarke County police booked him for misdemeanor charges of DUI and underage possession of alcohol.
The rising sophomore was expected to compete for a starting job. His arrest is the eighth since Kirby Smart was hired as coach.
Former coach Mark Richt's staff signed Ledbetter in 2015 as a highly recruited prospect out of Tucker High School in suburban Atlanta. Ledbetter enrolled early and played in seven games.
The Bulldogs have yet to make an announcement regarding Ledbetter's latest arrest. He was charged in March over a fake ID and underage possession of alcohol, but the charges were dropped.
Georgia's student-athlete policy for arrests called for Ledbetter to serve a one-game suspension after his first arrest.
Ledbetter, Chad Clay and Chauncey Rivers have accounted for six of the arrests under Smart. Clay and Rivers were both dismissed after Smart gave them another chance.