Gareth Bale to miss Champions League semis and his season is in doubt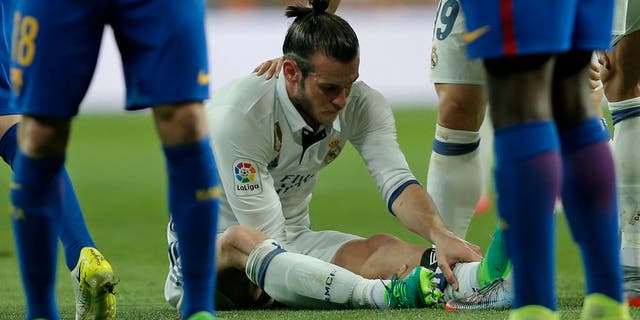 An injury-plagued season at Real Madrid may be coming to an early end for Gareth Bale.
Manager Zinedine Zidane confirmed Bale has a left calf issue that will keep him out for at least three weeks, if not longer. That means Bale could miss the rest of Madrids La Liga campaign and hell be out for both legs of the Champions League semifinal vs. Atletico.
Zidane defended his decision to start Bale in Sundays El Clasico, saying he trusted Bales self-assessment of his condition. Bale came off in the 39th minute to injury, after he had to come off early vs. Bayern Munich to injury a week earlier.
He is the first one unhappy with what happened, but he told me he was at 100 percent, that the two training sessions before the game were perfect, with no problems at all," Zidane said told reporters. "I trust everything my players tell me.
"Then this has happened. We cannot avoid it. The player wants to play. When you have a very long injury, when you return it is difficult. Maybe at the start you are good, but when you train every day you pick up another problem.
The injury means that Marco Asensio will likely be filling in for Bale after good showings in that role during El Clasico and against Bayern in the Champions League. Zidane has other options though, including Isco and James Rodriguez, who could slot in as well.
For Bale, however, this latest injury could put his Real Madrid future in doubt. He now has racked up 17 injuries in four seasons with Los Blancos and increasingly looks like a liability. If Asensio gets Bales job during his absence and plays well, it could be difficult for Bale to get his starting job back.
If Bale does recover quickly, he could be back in time for the Champions League final, if Madrid gets there, or just before the end of the season. But given this latest injury, Zidane may be hesitant to fold Bale back in immediately after regaining fitness. That could very well mean Bale would miss the rest of Madrids season and could spell the end of Bales career at Real Madrid.
It all depends on how Bales latest recovery goes and whether he can make it back before the end of the season to score one of his signature big-game goals. For now, Real Madrid need to start using their considerable depth on the bench.
MORE FROM FOX SOCCER