Fury gives up world titles to focus on treatment, recovery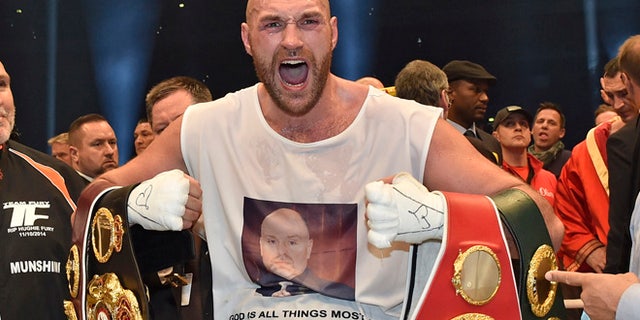 LONDON – Tyson Fury has vacated his WBO and WBA world titles to concentrate on his treatment and recovery from drug use and other personal issues.
Fury's promotors released a statement early Thursday confirming the decision. It comes in the wake of his second withdrawal from a rematch with Wladimir Klitschko after being declared "medically unfit" and following his admitted bingeing on cocaine and alcohol.
"I'm unable to defend at this time and I have taken the hard and emotional decision to now officially vacate my treasured world titles and wish the next in-line contenders all the very best as I now enter another big challenge in my life which I know, like against Klitschko, I will conquer," the British boxer said in a statement.
"I feel that it is only fair and right and for the good of boxing to keep the titles active and allow the other contenders to fight for the vacant belts that I proudly won and held as the undefeated heavyweight champion of the world."
His decision to vacate the belts could set up a bout between Klitschko and Anthony Joshua to unify the heavyweight titles, with negotiations between the two camps reportedly underway.
Fury's promotional company, Hennessy Sports, released the statement confirming the boxer's decision to relinquish the titles "out of respect for the governing bodies, the sport of boxing and the heavyweight division."
The statement said the break will also allow Fury "the time and space to fully recover from his present condition without any undue pressure and with the expert medical attention he requires."
In an interview with Rolling Stone magazine this month, Fury is quoted as saying he has been bingeing on cocaine and alcohol to deal with manic depression.
"I've been out drinking, Monday to Friday to Sunday," Fury was quoted as saying. "I've taken drugs, cocaine, on many, many occasions for the last six months."
In the interview, he also described himself as a "manic depressive" and reportedly added: "I just hope someone kills me before I kill myself."