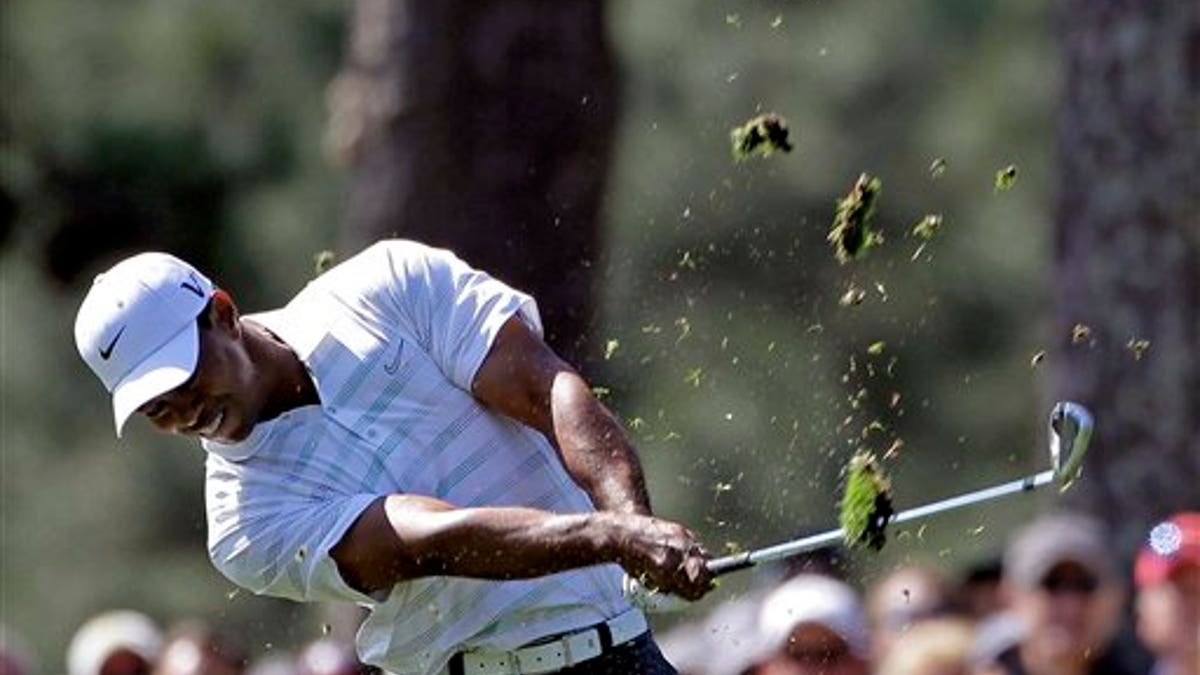 The golf swing still needs work. The club toss -- well, Tiger Woods has that one down.
Frustrated again in the third round of the Masters, Woods chunked his driver and took a big divot out of the 13th tee box after ripping one into the trees on the par-5 hole.
All part of a day in which he opened with two quick birdies, but gave both of them back, failed to take advantage of any of the par-5s and headed to the 17th tee box at 3-over par. He was still eight behind leaders Fred Couples and Jason Dufner, who were preparing for an afternoon tee time.
Woods' ball appeared to be tracking into the cup on a 25-foot birdie attempt on No. 15, but it took a peek and went 4 feet past. A putt that used to go in for him fairly regularly, but not on this day, and he dropped his putter to the ground and bent down in exasperation, arms hanging straight down.
He went 0 for 4 on the par-5s and is playing them at 1-under par through three rounds -- no way to win at Augusta National.
Woods' third round, played on a sunny, near-windless day, looked a lot like his second round. He also made two early birdies Friday, but ended up shooting 3-over 75, while tossing and kicking his club in frustration as he moved around the back nine.
He has come from this far back to contend before. Last year, he was seven down and briefly grabbed a share of the lead on Sunday before finishing fourth.
So far this week, though, he has the dreaded "two-way miss" going. He's spraying tee shots left and blocking approach shots to the right. Through his tee shot on the 15th hole, he had hit only 22 of 40 fairways for the tournament, ranking him second to last in the 63-player field.
With tee times for the leaders approaching, a few players were making up ground.
Justin Rose made three birdies and made the turn in 3-under 33 to get to 3 under for the tournament. Aaron Baddeley also made a birdie on No. 2 to get to 3 under.
Phil Mickelson opened his day with a par to stay at 2 under. Matt Kuchar, There was a group of six at 4 under, including Sergio Garcia, Lee Westwood and Rory McIlroy.
Then there were the leaders -- Dufner, the Auburn graduate, and Couples, the 52-year-old fan favorite trying to recreate some magic on this, the 20th anniversary of his Masters championship.
He put on quite a show Friday -- bringing his trademark West Coast-casual attitude along with a smooth swing that hasn't broken down much over the years. He made seven birdies in a round of 5-under 67.
"Can I win?" Couples said, repeating the question now on so many minds. "Yeah, I believe I can. Yes."