From The Amazon To The Slopes: Brazilian Snowboarder Isabel Clark Ribeiro Takes On Sochi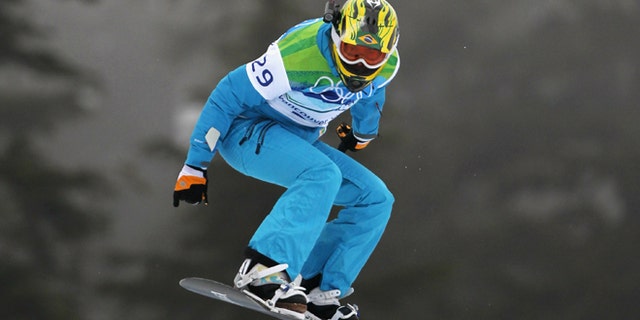 If you think that snowboarding is a young person's sport, you should have a word with Isabel Clark Ribeiro.
The 37-year old snowboarding veteran will be heading to Sochi, Russia, to compete in her third Olympic Games, and hopefully redeem herself after a horrifying crash and knee injury suffered in a boardercross race at Vancouver in 2010.
"I lost my confidence and it was very difficult to recover my confidence since I was feeling a lot of pain," Clark Ribeiro said. "I decided that I really wanted to go for another Olympics and I real worked hard in the physical training so I am really strong now so I feel that my joints and body are really strong and that gives me confidence."
It seems strange that one of snowboarding's longest-active professional athletes comes from Brazil, a land famed for Ipanema, Copacabana and other sun-drenched beaches, the humid Amazon rain forest and the sultry Carnaval in Rio de Janeiro. But the bizarreness is even more apparent when one finds that with 13 men and women, Brazil has the largest delegation of athletes heading to Sochi from Latin America.
For her part, Clark Ribeiro learned to snowboard while visiting her brother in California in 1994 at the age of 18. While she initially started skiing, the Brazilian found that the board appealed to her more, and she soon developed a passion for the sport despite numerous injuries, including breaking her arm in 2001 and 2004 and spraining her knee in the 2001/02 season, which required a three-month recovery.
She made her professional debut in boardercross – a discipline in which snowboarders race down a hill filled with jumps similar to a motocross track – in 1997 at the Bud Light Grand Prix in the U.S. and has been a mainstay in the racing ranks pretty much ever since.
While Clark Ribeiro has had her share of wins, her biggest accomplishment may be her longevity. She placed ninth in boardercross at the 2006 Olympics in Torino, Italy, and has maintained top ten positions throughout her career on the FIS World Cup. She made her first X-Games appearance in 2012.
Clark Ribeiro's Olympic dream has also been helped by Olympic Solidarity, an International Olympic Committee initiative whose goal is to give talented athletes from disadvantaged national Olympic teams an equal chance of reaching and succeeding at the Games.
"If I didn't have that support I probably wouldn't have improved that much in the last few years," she said.
And for anyone thinking that Clark Ribeiro is heading to Sochi just to enjoy her time at the games, they better think again.
"I feel that I'm in a really good phase of my career," she said. "I feel strong, I feel ready, and I'm in a good moment ... I can't wait to go to Sochi."
Follow us on twitter.com/foxnewslatino
Like us at facebook.com/foxnewslatino