Friedman tells Dodgers coaches they're 'free to look elsewhere'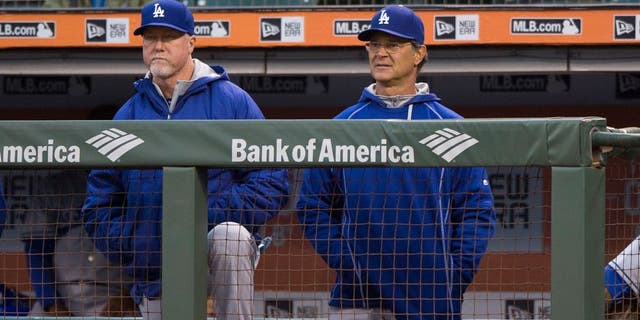 Dodgers hitting coach Mark McGwire (left) and former manager Don Mattingly. Jason O. Watson Getty Images
Don Mattingly likely won't be the only fixture leaving the Los Angeles Dodgers dugout.
As the Dodgers and Mattingly announced their mutual parting on Thursday, president of baseball operations Andrew Friedman reached out to the team's coaches and informed them that they are free to pursue other opportunities, should they desire to do so.
"Out of respect to those guys, we appreciate the timing element of this, and so we told them they're free to look elsewhere," Friedman said. "To the extent that happens and something winds up that makes sense to them and their family, we understand. To the extent they're still available when we hire a manager, then obviously that will be a conversation we'll have with the new manager at that time."
Among the Dodgers coaching staff, which consists of hitting coach Mark McGwire, pitching coach Rick Honeycutt, first-base coach Davey Lopes, third-base coach Ron Roenicke, bench coach Tim Wallach, outfield coach Lorenzo Bundy, assistant hitting coach John Valentin, and bullpen coach Chuck Crim, Wallach and Roenicke would be the ones most likely to be on the move out of the bunch.
Wallach reportedly interviewed for the Washington Nationals' managerial vacancy and is considered a candidate to become the Dodgers' next manager, as is Roenicke.
Friedman couldn't shed any light on which coaches, if any, might be on their way out of Tinseltown.
"Obviously we wished we had more answers to provide," he said. "We don't. This process is just getting underway."