Friday, April 28: Tampa Bay Rays at Toronto Blue Jays game preview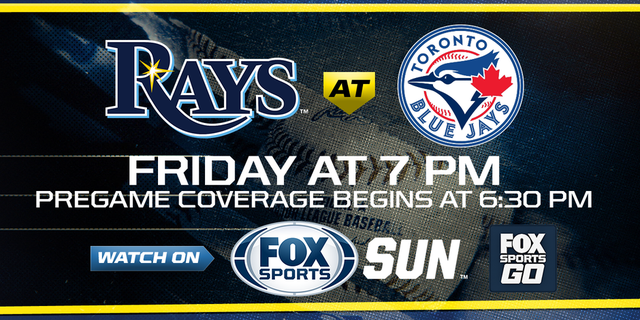 TV: FOX Sports Sun
TIME: Coverage begins at 6:30 p.m.
TORONTO -- The Toronto Blue Jays led the St. Louis Cardinals 4-0 on Thursday afternoon.
After taking the opener Tuesday, they were in a good position to win two consecutive games for the first time this season, win their first series of the season and ensure themselves of a winning road trip.
They did none of the above and will come home to play to play the Tampa Bay Rays on Friday with a 6-16 record.
The bullpen gave up the lead in the first game of the doubleheader Thursday, with closer Roberto Osuna blowing the save by coughing up a two-out, two-run homer in the ninth to Randal Grichuk and J.P. Howell allowing the game-ending grand slam to Matt Carpenter in the 11th.
They went on to lose the second game of the doubleheader 6-4 on Thursday night to finish their trip 3-4. The teams played two Thursday after Wednesday's game was postponed because of rain.
"It could have been a good day," Blue Jays manager John Gibbons said. "Tough first ballgame, then we fell behind early (in the second game). We made a run. Long, tough day getting swept."
The Blue Jays nightmare early season continues against the Rays (11-12) for three games before they hit the road again for six games.
Blake Snell (0-2, 3.38 ERA) starts Friday for the Rays and opposes Marcus Stroman (2-2, 3.10).
There could be some good news for the Blue Jays. Aaron Sanchez, who is on the disabled list with a blister on his right middle finger, will have a throwing session Friday and could start the series finale Sunday, which would bump Marco Estrada to Monday against the New York Yankees.
The Rays begin a stretch of 33 games in 34 days until June 1 with the only day off May 18.
Gibbons admitted to concern over Osuna, who has lost velocity and has three blown saves in four opportunities.
"To be honest, I feel really good right now," Osuna said. "I just don't know what's going on. … I feel good every time I go out there. It's tough with everything happening after two outs. One pitch, for some reason, and it's hard to figure out. I don't think I'm doing anything different or something is wrong with me. I feel great. I can't understand it. … Today I located by fastball really good for the first three hitters and I missed one pitch right in the middle."
The Rays will be rested when they face the Blue Jays. They had Thursday off following a 5-4 loss in 11 innings Wednesday to the Baltimore Orioles, who took two of three from the Rays at Camden Yards.
Shortstop Tim Beckham hit two homers for the Rays on Wednesday and has four for the season, with eight RBIs. He has been the regular shortstop as the Rays await the return of Matt Duffy from heel surgery, possibly late next month.
"I just want to take it day to day and continue to see the ball, continue to trust my approach and (help win) some ballgames," Beckham said. "Just take it day by day, at-bat by at-bat, and hopefully good things will happen."
"The way Beck was (Monday), the way he's played the last 10 games, that's exciting," Rays manager Kevin Cash said. "He's continuing to impress with his opportunities."
Beckham is on a seven-game hitting streak, going 11-for-27 (.407/.429/.741) with two homers and five RBIs.
"Probably just finding his rhythm," Cash said.
Snell and Stroman faced each other April 6 at Tropicana Field, with the Blue Jays winning 5-2. Kendrys Morales hit a grand slam in that game, the first allowed by Snell in his career. Snell allowed three hits, five walks and five runs (four earned) overall.
The left-hander is 1-2 with a 4.40 ERA in three career starts against Toronto. In his only start at Rogers Centre, he lasted only 1 2/3 innings, allowing five hits, four walks and five runs (two earned) in a 5-3 loss.
Stroman is 4-4 with a 4.41 ERA in eight career starts against Tampa Bay. He allowed six hits, two walks and one run while striking out five in 6 1/3 innings against Tampa Bay to win his first start of the season.
He has a pitched a complete game in two of his past three starts, a loss to the Milwaukee Brewers and a win over the Los Angeles Angels.
Rays outfielder Colby Rasmus, a former Blue Jay, could return from hip surgery this weekend.
The Rays have removed outfielder Mallex Smith (strained right hamstring) from the disabled list and optioned him to Triple-A Durham.