Freshmen WRs already standing out at UGA practice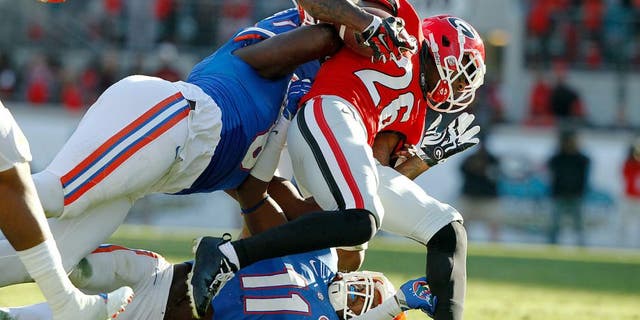 NEWYou can now listen to Fox News articles!
Aside from the quarterback position, the main question mark for the Georgia Bulldogs offense heading into the season is at the receiver position. Who will step up on the outside to compliment Malcolm Mitchell this season in Athens? Many expect help to come from Georgia's talented 2015 recruiting class, which just so happened to be loaded at receiver.
One player everyone is eager to see earn that role is five-star freshman Terry Godwin. Godwin, who turned down an opportunity to play professional baseball to play for Georgia, has already started to catch the eye of one of his new teammates.
"I think Terry Godwin's probably our best freshman receiver right now," quarterback Brice Ramsey said to 247Sports. "He just snags the ball out of the air like no other and he's got good quickness and good route-running. And he picked it up very quickly. I feel like this camp will just help out what we did in the summer and polish him more in the fall. I feel like you can put him anywhere, he was running slot and flanker for us."
But Godwin isn't the only threat to garner some playing time from the freshman class. Jayson Stanley, Michael Chigbu and Shaquery Wilson are all vying for positioning on the Dawgs depth chart.
"A lot of the young guys came in June and we got into the gist of all of the 7-on-7s and what not. They picked it up very quickly and we were able to kind of install and stuff and get them adapted to the playbook," Ramsey said. "Instead of just having them learn the playbook, they were out there running routes against defenders and what not so it was huge for them."
(h/t 247Sports)