Freshman Portis emerging as offensive force for surging Razorbacks leading into SEC play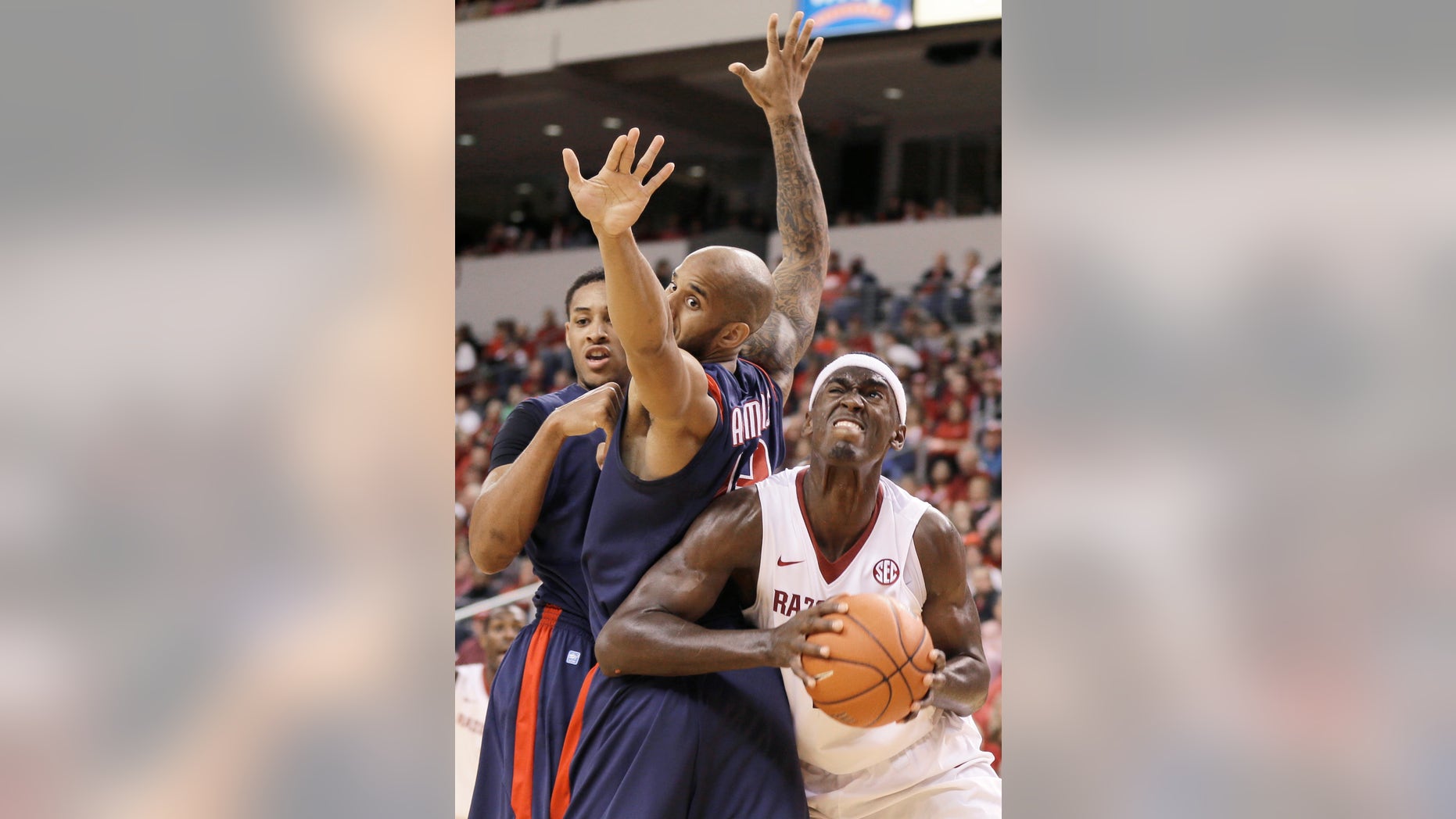 FAYETTEVILLE, Ark. – Even Bobby Portis admitted he was timid at times early this season for Arkansas, hardly living up to his billing as a McDonald's All-American.
The 6-foot-10 freshman has been anything but unsure of himself recently for the surging Razorbacks, winners of seven straight as they prepare to open Southeastern Conference play at Texas A&M (9-4) on Wednesday night.
Led by Portis, who has scored in double figures in nine straight games, Arkansas (11-2) leads the SEC and is sixth in the country in scoring with an average of 87.2 points per game.
The success has the Razorbacks thinking big, hoping to reach the NCAA tournament for the first time in five seasons. It's the longest stretch without an NCAA berth for the school since an 18-year drought before then-coach Eddie Sutton reached the tournament in his third season in 1977.
Coach Mike Anderson is now in his third season with the school, and he's comfortable in his belief that the Razorbacks are on track to return to the elite level in the SEC.
"I just think we're moving in the right direction," Anderson said. "... I just know we're going in the right direction, and if we do what we're capable of doing, then what's there at the end will be there for us."
Arkansas' success so far has come despite losing its two leading scorers, BJ Young and Marshawn Powell, from last season. They have picked up the scoring slack with a balanced approach, with three players averaging in double figures.
Portis, the Little Rock native who arrived with plenty of expectations after a standout prep career, is among the top scoring options. He is second on the team to Michael Qualls with an average of 12.8 points per game, a number that's risen significantly since an early season five-point effort in a loss to California. It's the last time Portis scored in single digits, and it provided an early wakeup call for the talented freshman.
"After that game, I just had to man up and be better for my ballclub," Portis said.
Portis had a career-high 19 points in a win over Texas-San Antonio on Saturday. He was 8 of 8 from the field and is 21 of 24 from the field over his last three games, raising his season shooting percentage to 59.1 percent (65 of 110).
Guard Fred Gulley said Portis has "definitely" established himself as a go-to option in his first season, exactly what Anderson had in mind.
"He's still learning, and he'll learn even more when we get into conference play, because it goes up another level," Gulley said. "But one thing about Bobby, he's been making subtle adjustments all year. He's really been playing well. He's impressed me, especially with the maturity he's had as a freshman."
Portis was tentative around the basket early this season, posting a pair of games with just one field goal while relying on mostly baseline jumpers for his points.
Against Texas-San Antonio, Portis continued his emergence as a force around the basket, contributing three dunks in the 104-71 win.
One of those dunks including a two-handed alley-oop on the break from teammate Ky Madden, a play on which Portis looked more like his relaxed high school self than a timid freshman.
It's an approach Anderson hopes and expects Portis to continue, particularly with conference play approaching.
"I think he has established himself as an impact player," Anderson said. "I think he will find out even more as we get into conference play because all of a sudden now you become a target. Can you be a guy that when it comes to you, you may be a decoy at times? Do you have the basketball IQ to understand that? I think he does."