France vs. Germany was decided by the awful handball rule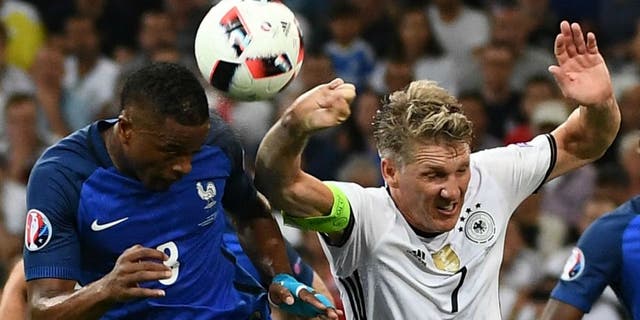 NEWYou can now listen to Fox News articles!
Germany were on the front foot. The raucous crowd at the Stade Velodrome has begun to quiet, uneasy as their beloved France struggled to find their way into the match. Then Patrice Evra got his head to a cross, the ball immediately hit Bastian Schweinsteiger's hand and the referee pointed for a penalty kick.
With that, the entire Euro semifinal changed. Antoine Griezmann converted the spot kick, sending France into halftime up a goal despite being out-played for much of the opening 45 minutes, and Les Bleus would go onto win the match, 2-0.
So going back to the handball -- was it the right call?
It's basically impossible to answer. And that's not just a way to let the referee off the hook because it was a close call that happened really quickly and took multiple replays to decipher what actually happened. It's a statement on the still-incomprehensible handball rules.
Just look at the rulebook:
Handling the ball involves a deliberate act of a player making contact with the ball with his hand or arm. The referee must take the following into consideration:
- the movement of the hand towards the ball (not the ball towards the hand)
- the distance between the opponent and the ball (unexpected ball)
- the position of the hand does not necessarily mean that there is an infringement
- touching the ball with an object held in the hand (clothing, shinguard, etc.) counts as an infringement
- hitting the ball with a thrown object (boot, shinguard, etc.) counts as an infringement
So it starts with "deliberate act." How many handballs are actually a deliberate act? Close to none, so the very first thing from the rulebook about handballs can either be discarded or the referees almost always call it wrong. This is a good start.
As for the rest of it (excluding the points about holding or throwing objects), there's hand movement, distance and then a qualifier that sometimes you throw things out based on position of hand, without actually explaining what hand positions matter and don't.
In conclusion, the handball rule is (still) awful and leaves everything open to a bunch of interpretation without any definitive answer. That's not great for a rule that is central to the sport and completely changes matches, like a Euro semifinal.
As for Schweinsteiger's handball, it wasn't deliberate, he moves his hand towards the ball, the distance between the hand and ball was about three inches so it was definitely an unexpected ball and the position of the hand, well, we're still unclear on what that means. Basically, who knows if the referee got the call right!
To say it's long past time to sort out the handball rule -- you know, so people actually know what a handball is -- would be exceedingly kind.
MORE FROM FOX SOCCER: