FOX Sports North Midweek Stock Report for April 6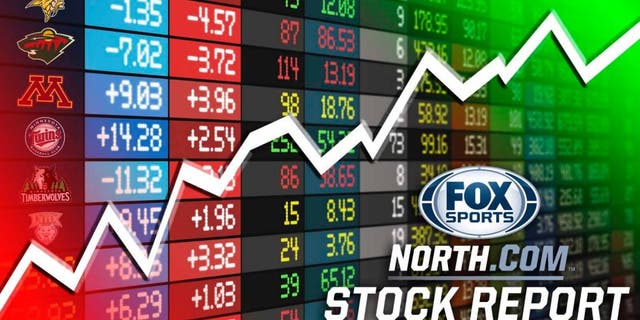 Every Wednesday, FOX Sports North takes a look at which athletes' stock is trending up and whose is trending down.
In other words, who just knocked off the 69-9 (!) Golden State Warriors, and who's cold.
With that in mind, let's "take stock" of the current Minnesota sports scene.
Andrew Wiggins, Timberwolves guard
If the Golden State Warriors fall short of the single-season wins record next week, the Wolves shooting guard may want to consider sending them a condolences card. Wiggins kicked off overtime on a six-point tear, scoring 32 points on the night to help power the Wolves to their biggest win of the season, a shocking 124-117 victory.
Shabazz Muhammad, Timberwolves forward
If Wiggins decides to send that card, Muhammad should probably sign it too. Muhammad turned in a sixth-man showing for the ages against Golden State, scoring a career-high 35 points, the most of any player coming off the bench against the Warriors this season.
Karl-Anthony Towns, Timberwolves center
Against Golden State, Towns was stellar on the defensive side of the ball, grabbing 10 defensive rebounds, and racking up 20 points on the other end to pick up his 13th straight double-double, and 49th of the season. And, oh yeah, he was awarded another Rookie of the Month Award (yawn).
John Torchetti, Wild head coach
The Minnesota Wild are limping into the playoffs by just about any measure after losing their fourth straight, but Torchetti has ensured that they will, at least, be there. The Wild are 15-10-1 since Torchetti's promotion after going 23-22-10 under Mike Yeo. They're currently staring down a murderers' row of potential first-round opponents in Dallas, St. Louis and Chicago, but after rattling off six straight wins in March, they're in.
Byung Ho Park, Twins designated hitter
"Park Bang," as he's known in the Korean Baseball Organization, got his first MLB hit out of the way early, going 1 for 3 with a run scored in his Minnesota Twins debut. Park reached base twice (he was also hit by a pitch) following a strong spring that saw the former Nexen Heroes slugger bat .259 with three home runs.
Matt Dumba, Wild defenseman
Dumba was a healthy scratch in the Wild's 3-0 loss to the San Jose Sharks on Tuesday after logging a minus-2 rating in a loss to Winnipeg. An inconsistent presence on the Wild's blue line over the last few weeks, things came to a head Sunday against the Jets.
Kevin Dorsey, Gophers guard
A former four-star recruit out of Maryland, Dorsey is leaving the Gophers and plans to transfer following a tumultuous freshman season in which he averaged 6.8 points per game and was suspended for the last few games of the regular season after explicit videos appeared on his social media accounts.