Fournette auctioning off game jersey to assist with S.C. flood relief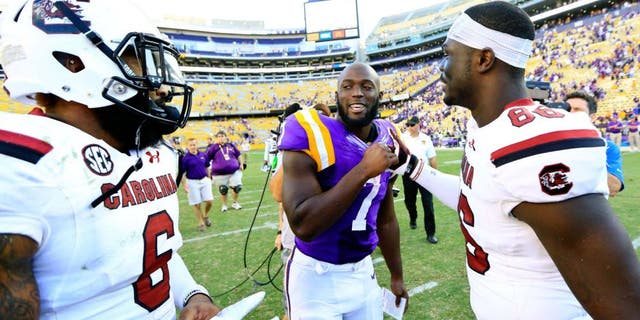 NEWYou can now listen to Fox News articles!
LSU and the people of Louisiana truly went above and beyond to help the people of South Carolina and their football team this week in a great time of need.
The laundry list of kind acts displayed has now extended to the players of LSU themselves. Star running back Leonard Fournette had an announcement to make just after the completion of the game against South Carolina.
"I want to send my prayers, condolences and empathy to the people of South Carolina," said Fournette. "It reminds me of what we went through, my people of New Orleans went through, 10 years ago in Hurricane Katrina. We played the game today, but the people of South Carolina right now are in need. I would like to auction off my game jersey, as is, to the highest bidder to help with the relief efforts. People of Louisiana not only care, but know what you in South Carolina are going through."
Quite the touching display of character by one of college football's most outstanding players, who only continues to amaze both on and off the field. It did not go unnoticed by the president of the University of South Carolina:
There was some question to the legality of auctioning off a current student-athlete's jersey, but the NCAA quickly stepped up and announced it will thankfully allow it.