Four things Jim Harbaugh must do to transform Michigan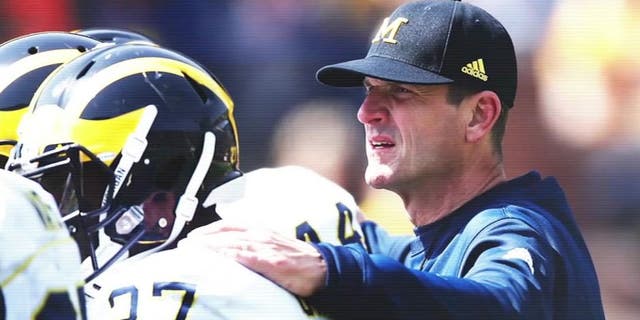 Jim Harbaugh has won every place he's been as a head coach, and it hasn't taken him particularly long to get programs flipped in the right direction. Now, he returns to his alma mater for another rebuilding job. The Wolverines have finished in the Coaching Poll only once in the past seven years.
There have been all sorts of deep dives and examinations of Harbaugh as he takes over Michigan in the past nine months. (In the FS1 pregame show tonight, 7 p.m. ET, I'll have a different kind of look at just what makes the guy tick -- and so successful -- from those who know him best.) Here are the four biggest things that must improve if Harbaugh is to transform Michigan back into a powerhouse again.
1. Fix the O-line problems. A program that for generations was known for its physical style has been really underwhelming up front of late. Consider this: In the past two seasons, Michigan surrendered 62 sacks -- the most per game in the Big Ten. In Harbaugh's final two seasons at Stanford, his O-line allowed just 14 sacks combined. No team in the country allowed fewer. Tim Drevno was one of Harbaugh's line coaches in Palo Alto and is with him now in Ann Arbor.
Worth noting: Harbaugh already has commitments from four four-star O-linemen, including 367-pound road-grader Michael Onwenu.
2. Get the running game cranked up: This probably should be 1B. As inept as the pass protecting has been, the Wolverines' running game has been just as much of a dud. In 2014, Michigan finished eighth in the conference in rushing. Only three Big Ten teams had fewer runs of 30 yards or more (Illinois, Iowa and Northwestern) than the Wolverines' six. That ain't gonna cut it under Harbaugh. Now, a lot of that is on the offensive line, but some of it is on the running backs, too.
In Harbaugh's final two seasons at Stanford, the Cardinal ranked 16th and seventh in the nation in yards per carry. Better still, in games against ranked opponents in his final season, the Cardinal averaged 6.84 yards per carry -- that was almost a full yard better than the next best team. That's more than double what the Wolverines averaged last year in such games (3.00), good for 81st in the country.
Harbaugh inherited some big backs in De'Veon Smith, Derrick Green and Ty Isaac. Fullback Joe Kerridge told me all three seem much faster this year and are running harder. What changed? Kerridge thought the backs just are more comfortable and know what they're doing. We'll see how much better this group looks starting in the opener against a stout Utah D.
3. Clean up the sloppy QB play: Last year, Michigan's TD-INT ratio was a dreadful 10-18. Harbaugh's proved to be one of the best quarterback coaches in football. He turned USD's Josh Johnson into an NFL player; polished Andrew Luck into the first pick of the draft; and transformed Colin Kaepernick from raw project into a dynamic dual-threat QB with a 50-21 TD-INT mark.
Expect Harbaugh to improve the level of quarterback play, whether it's Iowa transfer Jake Rudock and Shane Morris this season, or down the road with touted freshmen Alex Malzone and Zach Gentry. Obviously, all this works in concert. Improve the O-line and the running game, and the play-action pass becomes more dangerous.
Of all the ugly numbers regarding the Wolverines in 2014, the worst are relative in just what a low-wattage offense this was. There were zero pass plays longer than 45 yards last season, and only Wake Forest had fewer than Michigan's 11 plays of 30 yards or longer. Stanford had 33 of 30 or longer in Harbaugh's final season with the Cardinal.
4. Beat who you're supposed to beat: The Wolverines aren't on the level talent-wise with Ohio State or Michigan State, but the rest of the Big Ten is hardly loaded. In the past two seasons, UM has dropped eight games against unranked opponents, and four of those losses came in Ann Arbor. Jerry Kill's Minnesota team has lost to just three in the past two regular seasons -- and one of those three opponents was a TCU team that shot up in the polls and finished No. 3.