Former Yankees' great Mariano Rivera gets special recognition at Monument Park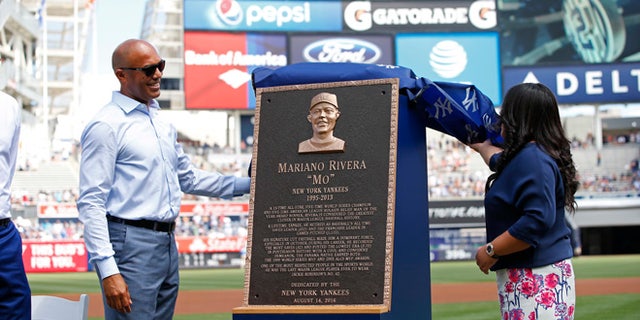 NEWYou can now listen to Fox News articles!
NEW YORK (AP) – Mariano Rivera walked to the podium near home plate at Yankee Stadium to speak about his newly dedicated plaque, which will be placed in Monument Park behind center field. He spoke in the 95-degree heat for just 3 minutes, as brief as many of his efficient relief appearances.
"I always will thank the good Lord to make me a Yankee," he said, referencing Joe DiMaggio's memorable phrase.
And then he turned and pointed to his former teammates and managers, seated on folding chairs in the infield.
"Hey, guys, I said 5 minutes — all right!" he said, pausing for a big smile before shifting his focus back to the fans. "Thank you guys. I love you guys."
Controlling owner Hal Steinbrenner presented Rivera with a replica of the plaque during a 25-minute ceremony before Sunday's 12-3 loss to Tampa Bay. Co-owner Jennifer Steinbrenner Swindal gave the retired reliever a ring in 14-carat white gold with "42" — his retired uniform number — formed by diamonds.
Derek Jeter, Andy Pettitte, Jorge Posada and Bernie Williams were among the former teammates on the field for the tribute along with current manager Joe Girardi and former manager Joe Torre.
"It wasn't about me. It was those guys there," Rivera said, pointing to the group. "Without them, I couldn't do it."
Rivera, whose number was retired by the Yankees in 2013 during his final weeks as a player, exited to Metallica's "Enter Sandman," the music played when he entered games. He returned for the ceremonial first pitch, a strike from the pitching rubber to rookie catcher Gary Sanchez.
Rivera set records with 652 regular season saves and 42 more in the postseason, spending his entire big league career from 1995-2013 with the Yankees and winning five World Series titles. He is eligible for Hall of Fame induction in 2019.
His plaque will be the 36th in Monument Park to go along with seven monuments. He talked at a post-ceremony news conference about being honored in the same place as Babe Ruth, Mickey Mantle, DiMaggio and Yogi Berra.
"And then me, a humble guy from Puerto Caimito, Panama, and being in that group of men means a lot," he said.
Rivera also was at Yankee Stadium on Friday to participate in a ceremony marking Alex Rodriguez's final game with the Yankees, then returned Saturday for a celebration of New York's 1996 World Series title.
"Only Alex and the New York Yankees know what happened," he said. "One thing that I can tell you is that I was proud of him because through tough times, through good times, adversity, he was there, he never hid and that's the beauty about him."