Former Nationals SS Ian Desmond thinks Bryce Harper will only get better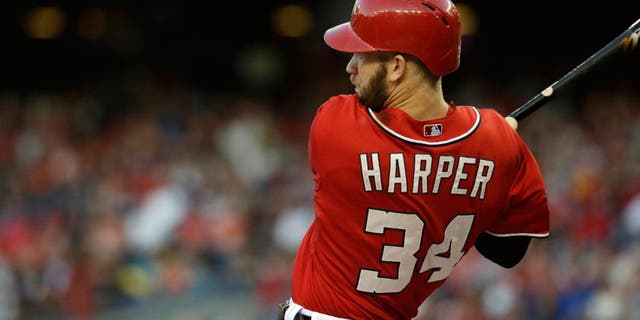 According to Ian Desmond, the best is yet to come for Bryce Harper. AP Photo Jacquelyn Martin
Washington Nationals outfield Bryce Harper is the front-runner for this season's MVP and it isn't really close.
He saw major jumps in nearly every offensive category this season, reaching career-highs in games played (153), runs (118), hits (172), doubles (38), home runs (42), RBI (99), walks (124), average (.330), on-base percentage (.460) and slugging (.649). All of that is pretty ridiculous.
According to his former teammate (and current free agent) shortstop Ian Desmond, Harper will continue getting better -- particularly in one area. Stolen bases.
"The kid is an unbelievable ballplayer, he's extremely passionate, as we all know, and to watch his growth… And to be honest, I know -- I don't think -- I know that he has more in the tank. He's not a slow kid," Desmond said on MLB Network radio via the Washington Post. "I think having Davey Lopes at first base, he's going to steal bags. He's not slow. He can steal bags at the major league level. I mean, think about that. The kid's walking 120 times. Give him the green light a couple times, he steals 20 or 30 bags, hits 30 or 40 homers and drives in 100? I mean, at 22 or 23 years old? Give me a break."
Harper notched just six stolen bases on 10 attempts in 2015 and had a career-high 18 steals in 2012.
If Harper is able to do as Desmond says -- 30 homers, 30 stolen bases and 100 RBI -- he would be the first player since Ryan Braun in 2012 to reach that plateau.
MORE MLB: Want stories delivered to you? Sign up for our MLB newsletters.