Former Cavs coach Bill Fitch says LeBron James' Finals performance is best ever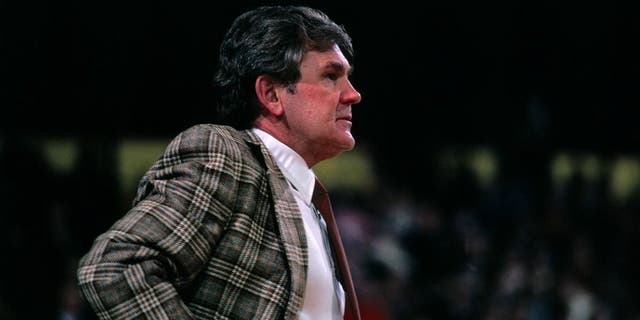 Cavs fans across the country have been swept up in euphoria since Cleveland won its first NBA championship Sunday night, and there's no one more excited about the city's curse coming to an end than Bill Fitch.
Cleveland's first head coach, Fitch was one of the original architects of the franchise and led the team from its inception in 1970 through the end of the 1978-79 season. Along the way, Fitch guided the "Miracle of Richfield" Cavs to the Eastern Conference finals, and later won an NBA championship with the Boston Celtics and reached the Finals with the Houston Rockets.
But on Tuesday, Fitch expressed particular delight at the Cavs' slump-busting win, calling it one of the highlights of his life.
"It made me one happy fella," Fitch told FOX Sports from his home in Texas. "I think I was as happy the other night when they won the championship as I was when we won it when I was in Boston, or when we went to the Finals here in Houston. It was just great for the fans in Cleveland, and I love the fans in Cleveland because they support you win, lose or draw."
I think I was as happy the other night when they won the championship as I was when we won it when I was in Boston, or when we went to the Finals here in Houston. Bill Fitch
Though he eventually went on to become one of the winningest coaches in NBA history, Fitch knows the latter part of that statement well. Cleveland lost 27 of its first 28 games during its inaugural campaign -- his first as an NBA coach after nearly two decades at the college level -- and won 15 games for the entire season.
However, Fitch recalls the fans at the time sticking by their team regardless of the struggles -- an art they've perfected in the 45 years since.
"That first year, Nick Mileti was the president and financial officer and got everything going, and we had a lawyer, a PR guy and myself -- so I was the coach, janitor and whatever came next," Fitch said. "And we had a contest for a slogan for the Cavaliers. Some boy won it, and it was, 'Never surrender, no matter what the odds.' And if there were ever a motto that fit what Cleveland has gone through the last 50 years or so, it's that. It fit perfect."
By the time Fitch's tenure in Cleveland came to an end, the city's title drought was 15 years. With that in mind, Fitch said he didn't feel the same pressure that other Cleveland teams did in subsequent years to break the streak. However, he's felt the tension grow from afar as the years have passed, and said it's admirable how the Cleveland supporters have stayed by their team's side.
"Even when you're losing, they give you support," Fitch said. "Even when we were 0-15 (in 1970), they stood behind that ballclub, and it's one reason they've stood the test of time. Those people deserve this."
In fact, so enamored with Cleveland is Fitch that, in 2011, when he was honored as one of the 10 greatest coaches of all time during the league's 50th anniversary season, he requested that he be recognized not as the championship-winning coach of the Celtics, but as a Cav.
"They were giving us jackets and the NBA office called me and said, 'Well you probably want the green one with white sleeves,' but I said, 'No, I don't want that one. I want the Cavaliers jacket,'" Fitch recalled. "They're my firstborn. Cleveland has always been a big part of me."
Now 82, Fitch has been out of the profession for nearly two decades (he last coached with the Clippers during the 1997-98 season), but says he's still a coach at heart. Fitch said he analyzed every Finals game the morning after it was played and commended Cavs coach Tyronn Lue for his adjustments throughout the series.
"He did a heck of a job," Fitch said of Lue, who was promoted to head coach after David Blatt's firing in January. "I taped all the games and then I'd go back and look and see what (Steve) Kerr was doing and what Lue was doing, and Lue did a heck of a job making fine adjustments game-to-game. Defensively, he did a great job of putting heat on (Stephen) Curry, and not only defending Curry, but making Curry defend to wear him out. That's where all those fouls came from, and they did a great job."
And while many left the Cavs for dead after the Warriors took a 3-1 series lead, Fitch said he never doubted that a comeback was possible.
"I thought they had a good chance because of some of the changes they'd made and the way it was going," said Fitch, whose Celtics overcame a 3-1 series deficit to the Philadelphia 76ers in the 1981 Eastern Conference finals.
"(Draymond) Green being out that one ballgame, I think, helped Cleveland at the time," Fitch continued. "And one thing about that, is if you've got good people in your locker room and you're down 3-1, their attention factor, their look at the game coming up, is very good. It's intense, but it's good, and LeBron (James) did a great job of leadership on the floor, as did the coaching staff."
James' effort, in particular, was part of what Fitch described as the best Finals performance of all time.
"He showed his emotions and fulfilled a prayer and a dream that maybe he had doubts about along the way, how long it would take for him to do it," Fitch said of the Finals MVP. "I've had Larry (Bird), I've seen Jabbar, I've seen Magic, I've seen Dr. J -- all those guys, in series. (Cedric) Maxwell, one year, for me when I was in Boston, got the award as player of the playoffs.
"But never, in my mind -- and I've seen a lot of games and filmed a lot of games -- have I seen a player play a whole series as good as LeBron James just did," Fitch continued. "He did a heck of a job, not only on the offensive end, but at the defensive end, and then the leadership -- you could see the leadership and the encouragement he gave his teammates."
... never, in my mind -- and I've seen a lot of games and filmed a lot of games -- have I seen a player play a whole series as good as LeBron James just did. Bill Fitch
And while nobody would have ever anticipated it six years ago when LeBron spurned Cavs owner Dan Gilbert to go to Miami, Fitch also said Gilbert deserves as much credit as anyone for the title so many thought might never come.
"You've got 30 teams out there, and they can't all have good ownership," Fitch said. "I gave the Nets a hard time when I was out there -- they had five owners and I said if you put them in the dining room for breakfast and they had to agree on what they're going to have, they'd starve to death. So ownership can make a big difference in a franchise, and Gilbert has stepped right in and he's kept the quality in Cleveland at a championship level, even when they weren't the champions.
"He has been one tremendous strength for that franchise," Fitch continued of Gilbert, the Michigan native who took over as majority owner in 2005. "As an owner, he has done everything that it takes to get that championship, and without him calling the shots -- everybody says he could have bought Detroit, but he made Cleveland instead."
You can follow Sam Gardner on Twitter or email him at samgardnerfox@gmail.com.