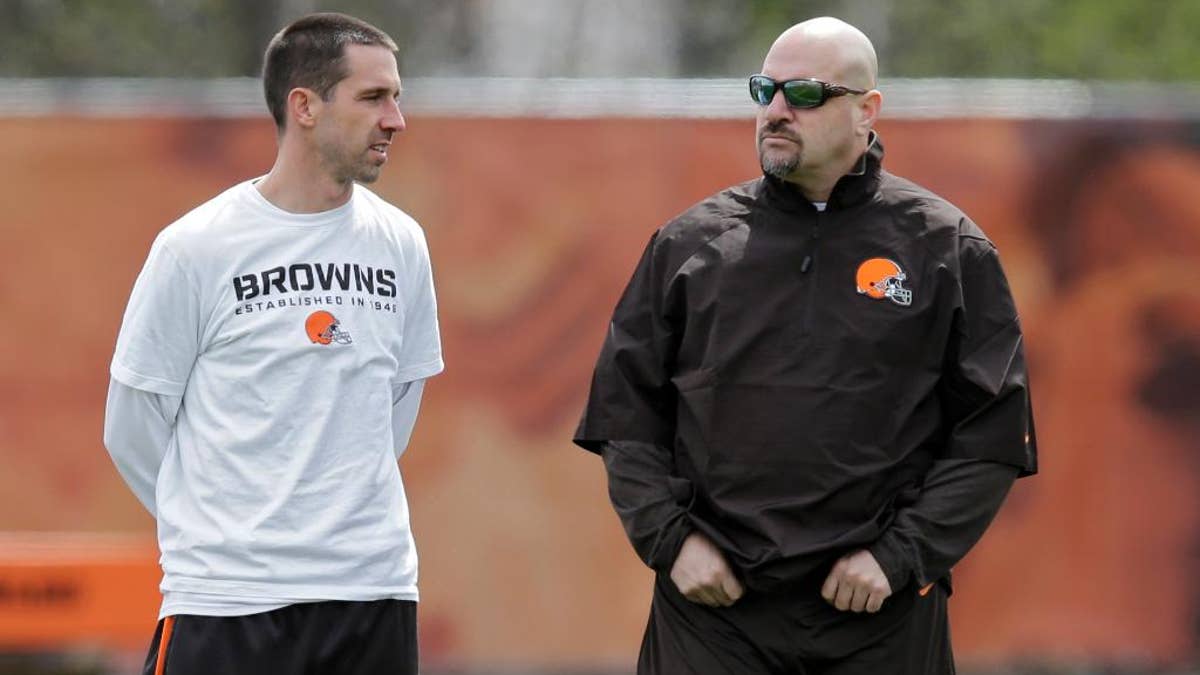 BEREA, Ohio – Vince Young doesn't take anything for granted. Not after the road he's been down.
Once of the NFL's rising stars before personal problems sidetracked the quarterback's career, Young signed a one-year contract on Thursday with the Cleveland Browns.
Although rusty, Young who hasn't played in a regular-season game since 2011, showed enough during a three-day tryout to get the deal.
It's been a long climb back for Young, who won't celebrate with so much work to be done.
"There's no popping the champagne bottle," he said.
The 30-year-old Young comes with an impressive resume after going 31-19 as an NFL starter and making two Pro Bowls.
He was signed along with free agent QB Tyler Thigpen and linebacker Zac Diles shortly after the Browns completed their first minicamp under new coach Mike Pettine.
This is another fresh start for Young, who spent part of the past two preseasons with Buffalo and Green Bay but hasn't appeared in a game since Dec. 18, 2011, for Philadelphia.
He has endured financial problems, dealt with emotional issues and tried to balance his personal life while keeping his professional one afloat. Young is thankful for the new opportunity and plans to do all he can to convince the Browns that he's worth hanging onto for a while.
After being offered a contract, Young told the Browns that instead of flying home to Texas, he planned to stay the weekend in Cleveland so he could become more acclimated with the team's playbook and to work out.
"Right now I have my head down, just wanting to work and show the team, the organization what type of guy I am," Young said. "That was my whole focus and how much hard work I put in."
Pettine said there were some moments over the past few days when Young looked like the Young of old.
"He took off and ran for a first down, we just finished up a rack of third down plays here and you could tell he's very rusty," Pettine said. "I was just joking with him the other day that rust was falling off in large clumps, but he flashed a couple of times. You don't realize how big he is until you stand next to him.
"We talk about all these 6-foot, 5-11 quarterbacks in the draft and then he comes walking out and you say, 'Oh, that's what they're supposed to look like.'"
Young acknowledged there were moments he felt like himself, and others when he struggled.
"There is definitely some rust on there," he said. "The biggest thing is I just want to get down to my playing shape, eating right and try to get a feeling with the team, what they do with their workouts and things like that.
"I just want to be around the team, be around the coaches and show them the part that they never see, the hard work that I do put in. That's what they're really about to see now."
Thigpen was out of the league last year after playing six seasons with Kansas City, Miami and Buffalo. He's 1-11 as a career starter with 21 touchdowns and 18 interceptions.
"It's a great opportunity," he said. "I thought for a while there that the door was going to close, but now that opportunity has opened back up. It's time to take advantage of it."
Young and Thigpen will be penciled in on the depth chart behind Brian Hoyer, who looked good in his first on-field work since undergoing knee surgery in October.
Pettine was pleased with Hoyer's progress. He was limited to individual and 7-on-7 drills, and hopes to be cleared for more in June.
"As far as his preparation, how he approached the practice field, how he interacted with the players, it was as we expected and then some," Pettine said.
NOTES: The Browns have until Saturday to pick up the fifth-year, $5.5 million contract option on DT Phil Taylor for 2015. Taylor promised the team's decision will not affect how he plays this season. "I'm still going to go out there and do what I've got to do for the team," Taylor said. "I'm still a Cleveland Brown and I'm going to be a Cleveland Brown until I'm not." ... WR Nate Burleson was excused from the final day of camp.
___
AP NFL website: www.pro32.ap.org and www.twitter.com/AP_NFL