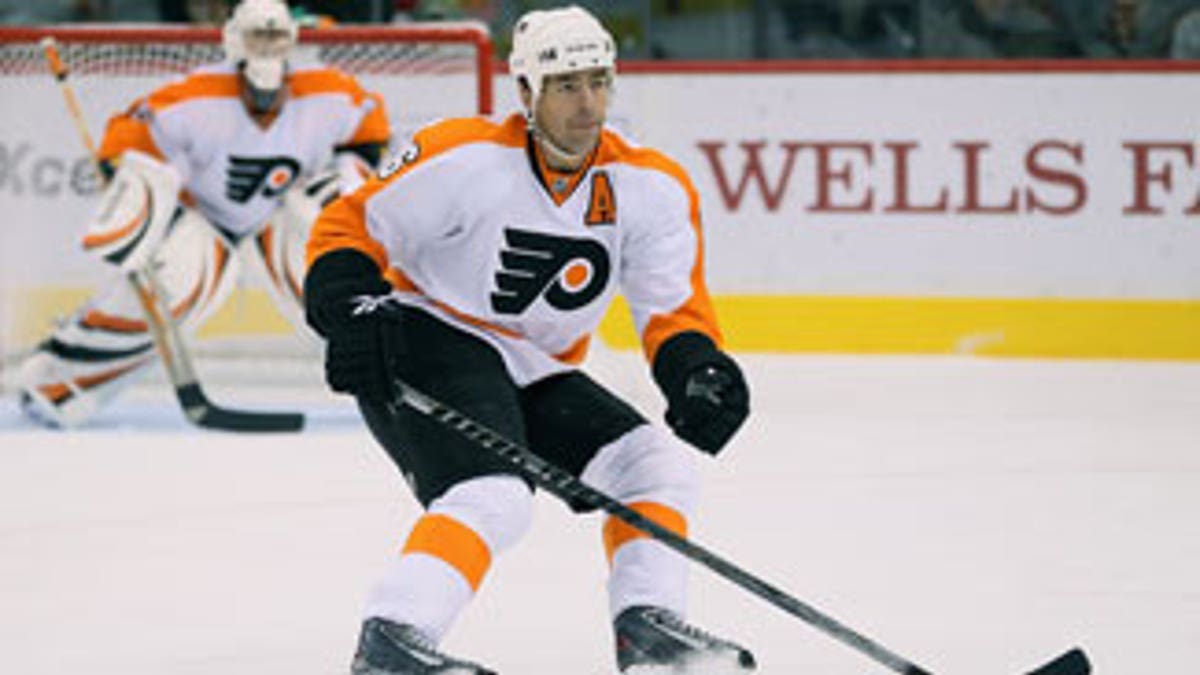 PHILADELPHIA -- Flyers forward Kris Versteeg has played a lot of big games in his four-season NHL career, including last season's Stanley Cup Final.
The same goes for defenseman Andrej Meszaros, who has played 40 NHL postseason games, including five for the Ottawa Senators in the 2007 Stanley Cup Final.
Tuesday, however, will be their first Game 7 in the Stanley Cup Playoffs.
Seventeen of the 20 players the Flyers will dress will have played in least one Game 7 at the NHL level. Most of them were on the ice for Game 7 of last year's semifinals against the Boston Bruins; for Chris Pronger, it will be his eighth Game 7.
So is a Game 7 in the first round more pressure than playing in the Stanley Cup Final?
I don't know if there's more pressure (with a Game 7), but there's more buzz, more excitement, more at stake," defenseman Sean O'Donnell told NHL.com. Tuesday will be his fifth Game 7, and he also has Stanley Cup Final experience from winning it with the Anaheim Ducks in 2007. "Game 7s are win or go home. The Stanley Cup Finals are the same kind of thing, but you've been working a lot longer."
Versteeg said this Game 7 had more pressure than the Cup Final for one very simple reason.
"You need to win these first-round Game 7s to get to the Cup Final," he said. "So there is a lot of pressure there."
Versteeg said he only learned this would be his first Game 7 from his brother.
"This is going to be I guess a new little challenge," Versteeg told NHL.com. "I played a Game 7 in the minors … but this is the first NHL one."
First or eighth, however, the approach can't be any different.
"It's just another game for me," Meszaros said. "You can't think about it as Game 7. I know it's a big game. I'm just going to prepare for it just like I did for the other games and not think about it. I'm going to play the same way I've been playing, not going to change anything. Just going to play my game."
That's just what O'Donnell wants to hear.
"These are fun games to play," he said. "I don't think as a player you want to think about it too much or change a whole lot about what you've been doing. We're all in the League for a reason. Whatever it is that got us here, do that and do it as well as you can and be ready to go. If everyone does that, I think we'll be OK."
'Relaxed focus' -- There wasn't much in the way of nerves during the Flyers' morning practice.
"The guys seemed to be moving well," coach Peter Laviolette said. "They seemed relaxed, which is good. That's always a positive. … The last thing you want to do is be wound up like a top and not be able to execute out there. Just going off this morning, our guys seem loose and ready to have some fun."
The players felt the same way.
"I would say 'relaxed focus,'" O'Donnell told NHL.com when asked about the mood on the ice. "Guys are joking around out there, but it wasn't by any means fooling around and not taking it serious. We know what's at stake. But I wouldn't say this team is tight at all."
Team captain Mike Richards said he saw what he was hoping to see in his teammates.
"We moved the puck around, everyone seemed excited to play. … I think there was a lot of excitement, and when you have excitement you have hockey players that are snapping the pucks around," Richards said. "It may have looked loose on the ice, but I thought we were crisp with our passes, good with our execution and you're going to have guys having fun. Why not? Seize the day."
Confident in net -- When the subject of his team's goaltending came up Tuesday morning, Laviolette was quick to point out that the Flyers' 2.67 team goals-against average was better than the Sabres' 2.83.
The Flyers are the first team since the 2004 Vancouver Canucks to start three different goalies in one series, and for Game 7 will turn back to Brian Boucher, who started Games 3, 4 and 5, and played in relief in Games 2 and 6. In all, he's 3-1 with a 2.12 GAA and .935 save percentage in five games.
Boucher was joined for the morning skate by rookie Sergei Bobrovsky, who started Games 1 and 2. Game 6 starter Michael Leighton did not take part in the skate.
"There's a tremendous amount of confidence in Brian Boucher, there's no question about that," said Laviolette. "When it comes to the series, the bottom line is we're getting a lot of talk about goaltenders, but our goals-against average is better than theirs. We've got a lot of confidence in Brian Boucher … and all of our goaltenders."
Contact Adam Kimelman at akimelman@nhl.com. Follow him on Twitter: @NHLAdamK