Football flashback: That time Kyle Busch surprised Samantha Busch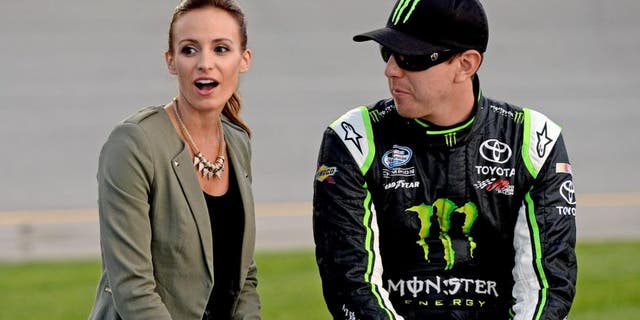 Kyle Busch is a huge Denver Broncos fan and we know he and wife Samantha will be rooting hard for the Colorado team tonight in Super Bowl 50.
Two years ago, Kyle and Samantha attended the AFC Championship game and were on the sidelines as they watched the Broncos win and advance to Super Bowl 48 where, unfortunately, they got pounded by Seattle.
But at the AFC title game, Kyle had a big surprise for Samantha: While standing on the sidelines, he pulled out his phone and showed her a picture of a dusk rose -- a.k.a. pink -- 1957 Ford Thunderbird that he had just bought for her.
Before they got to Denver, the Busches were at the Barrett-Jackson Collector-Car Auction in Scottsdale, Arizona. Kyle's father, Tom Busch, stayed at the auction and on Kyle's behalf cast the winning bid of $87,000 to acquire the prized vintage T-Bird.
"As we were sitting watching the game, Kyle handed me his phone and said, 'I hope you can reach the pedals in this!' " Samantha wrote in her blog. "When I looked down at his phone, it was a picture of the beautiful pink Thunderbird from Barrett-Jackson! I was literally speechless!"