Follow the leader: Logano only one safe as Talladega test looms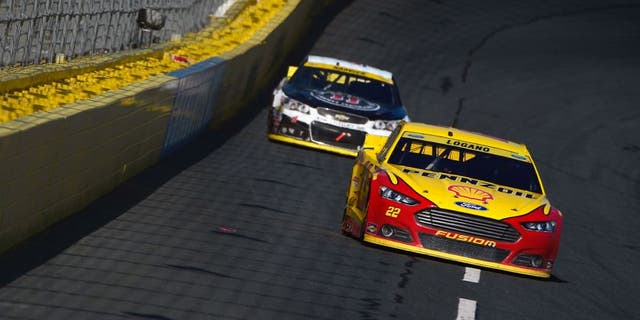 NEWYou can now listen to Fox News articles!
NASCAR Sprint Cup Series drivers don't often agree and they almost never share unanimous feelings about any given topic, but this week was an exception: To a man, all 12 drivers still in the hunt for the Chase for the NASCAR Sprint Cup said they didn't want to have to go to Talladega in two weeks needing a victory to advance to the Eliminator Round.
After watching Joey Logano drub the field to win Sunday's Bank of America 500 at Charlotte Motor Speedway, that point came into razor-sharp focus.
"This makes Talladega way easier," said Logano. "I know that's on everyone's mind when this round starts and last year we won Kansas when it was the first race of this round and now we were able to get it this time at Charlotte. We'll get lots of sleep here the next couple of weeks."
His competitors, however, won't.
Rock steady Matt Kenseth, the only Sprint Cup driver with five victories this season, had one of those rare days where he hit everything but the pace car and finished 42nd.
Dale Earnhardt Jr., the third-place finisher in the Coca-Cola 600 at Charlotte, was 28th after early contact with Carl Edwards sent him into the wall for the first of several times.
Kyle Busch, winner of four races this season and a driver who had finished no worse than 11th in 14 of his last 16 Cup races at Charlotte, got tangled on pit road with Kyle Larson and wound up 20th.
Everybody expects the unexpected at Talladega. Honestly, not many people expected the unexpected at Charlotte, where more good cars had trouble than anticipated. Who knows what sort of mayhem the next two weeks will bring.
Not to mention how many sleepless nights there will be.
Some other thoughts on Sunday:
-- Kevin Harvick, who was runner-up to Logano at Charlotte, has now finished first or second 14 times in 30 races. Anyway you slice it, that's a remarkable record. To my mind, that still makes him the title favorite.
-- The last time we had a first-time winner this season? That would be Kyle Busch at Sonoma in mid-June. The last time a team other than Joe Gibbs Racing, Team Penske or Stewart-Haas Racing won was Fourth of July weekend at Daytona. Hardly a surprise that eight of the 12 drivers still in the title hunt are from those three teams. Or that those three teams accounted for four out of the top five finishers in Charlotte.
-- The most under-recognized story in the Sprint Cup garage is the recent -- and dramatic improvement of Aric Almirola and Richard Petty Motorsports. After posting just one top-10 finish in the first 25 races of the season, Almirola has four top 10s, including a pair of top fives, in his last five starts. Well done, driver and team.
-- If you go back and look at the last five races, the lap leader totals are staggering:
Kenseth led 352 of 400 laps at Richmond.
Kyle Busch led 121 of 267 laps at Chicagoland.
Harvick led 216 of 300 laps at New Hampshire.
Harvick led 355 of 400 laps at Dover.
Logano led 227 of 334 laps at Charlotte.
That means that on average, over the last five races, the guy who led the most laps in one of those races led 75 percent of the laps run. Only once in those five races has one driver led less than 68 percent of the laps.
So now, it's on to Kansas. And we'll see who can join Logano among the Contender Round winners.