Foles throws 3 TDs as Eagles rout Vikings in NFC Championship Game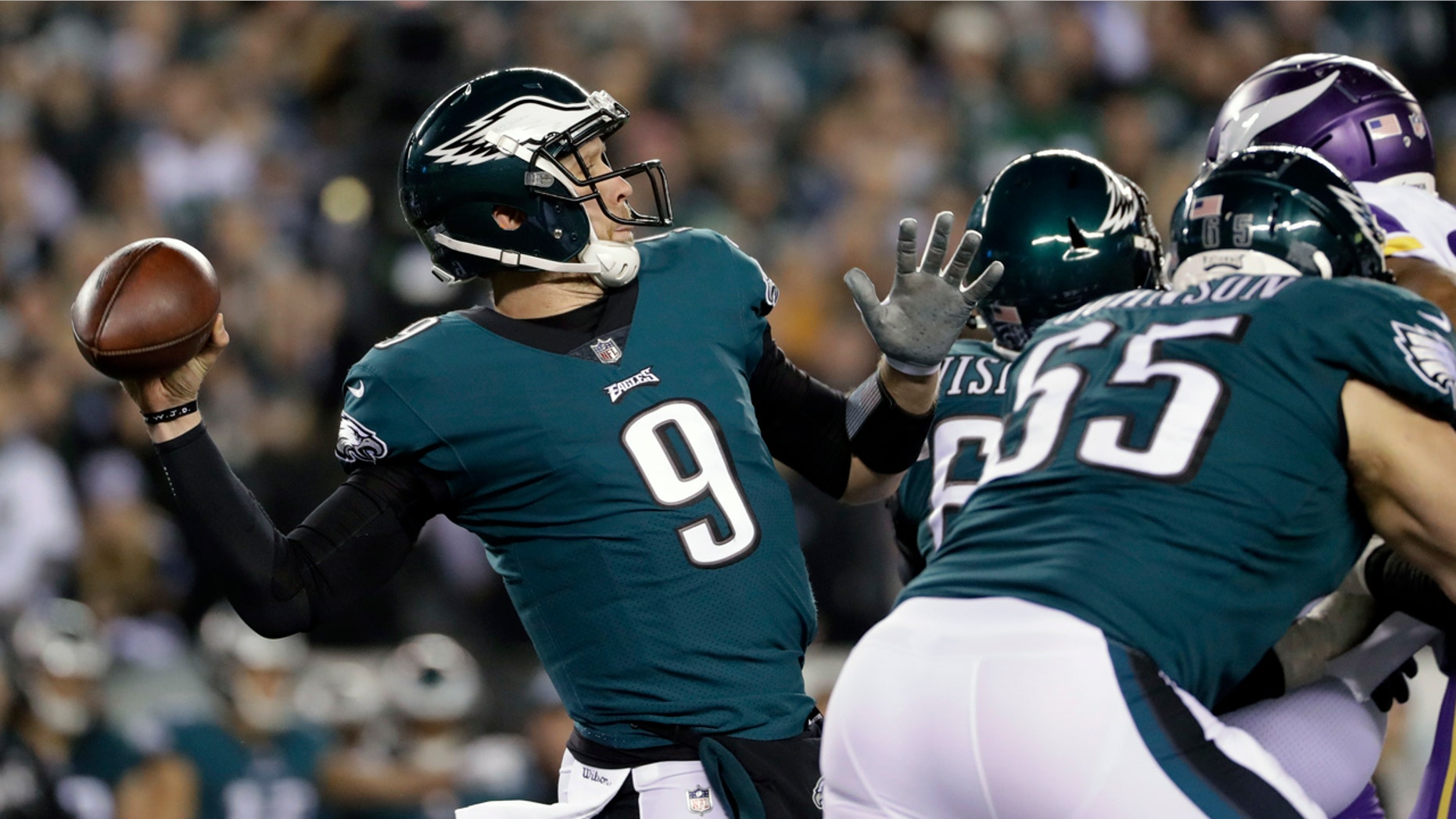 There will be no home Super Bowl for the Minnesota Vikings. And Bill Belichick and Tom Brady will be waiting for the Philadelphia Eagles, just as they were 13 years ago.
Nick Foles threw for 352 yards and three touchdowns and the Philadelphia defense forced two critical turnovers as the Eagles defeated the Vikings, 38-7, in Sunday's NFC Championship Game at a rapturous Lincoln Financial Field in Philadelphia.
The Eagles will play the New England Patriots in Super Bowl LII at U.S. Bank Stadium in Minneapolis, Minn. on Feb. 4. The Patriots defeated the Jaguars earlier Sunday, 24-20, to advance to their eighth Super Bowl since 2001.
The franchises previously met at Super XXIX in Jacksonville, Fla. back in 2005. The Patriots won that matchup, 24-21, to win their third Super Bowl in four seasons. They will try to repeat that accomplishment against the Eagles in two weeks.
The Vikings took the opening kickoff 75 yards in nine plays, capped by Case Keenum's 25-yard touchdown pass to Kyle Rudolph. But that was Minnesota's last good moment of the night.
On Minnesota's second possession, Keenum was hit as he attempted a third-down throw and Patrick Robinson intercepted him. Robinson weaved his way into the end zone from 50 yards away, and the rout was on.
The Eagles offense took over in the second quarter. First LeGarrette Blount -- who won a Super Bowl ring with New England last year -- plowed over the goal line from 11 yards out to make it 14-7, Philadelphia.
At that point, the Vikings still had hope of getting back into the game. But the Eagles defense -- and Foles -- soon snuffed that hope out.
With 3:25 to go and Minnesota at the Philadelphia 16, Keenum was strip-sacked by Derek Barnett. Chris Long recovered the fumble and on the ensuing drive, Foles hit Alshon Jeffery for a 53-yard touchdown.
Philadelphia got the ball back after a Vikings punt with 29 seconds left. Rather than taking a knee to end the half, Foles completed passes of 11, 36, and 13 yards to set up a 38-yard Jake Elliott field goal to end the half.
The score was 24-7 entering the second half and the Eagles added to it on their first possession of the third quarter as Wentz found Torrey Smith for a 41-yard touchdown pass on a flea-flicker. Foles capped off his night with a 5-yard touchdown toss to Jeffery, ensuring the Eagles would move one win from their first NFL Championship since 1960.