Flyers hoping to avoid another historic comeback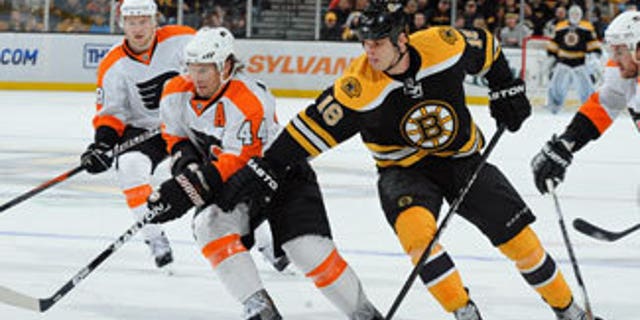 NEWYou can now listen to Fox News articles!
VOORHEES, N.J. -- While the Philadelphia Flyers long will be remembered for their epic seven-game comeback against the Boston Bruins in the 2010 Eastern Conference Semifinals, there's little doubt those same players would prefer to take a more conventional approach this spring when the teams face off once again.
First and foremost, a winning formula wouldn't include spotting your opponent a 3-0 series lead before rallying to win the final four games.
"We're going to try not to get in that position again," Flyers captain Mike Richards said. "Obviously, we put ourselves in a big hole. But it's a new year. They have new players and I'm sure they're thinking the same thing and they have a good team. We've played them tough all year and have had a couple of extremely good games. We're going to have to throw everything at them."
Not only did the Flyers become the first team in 35 years to win a best-of-7 series after losing the first three games, but they also rallied from a 3-0 deficit in Game 7 to score a decisive 4-3 triumph at TD Garden.
Flyers coach Peter Laviolette isn't a big believer in gaining extra incentive for something that's now in the history books.
"I don't buy into that whole 'what happened last year' thing," Laviolette told the media here at Virtua Health Flyers Skate Zone following Thursday's practice.
"Are they going to play harder than they did last year because of what happened? I don't think it's possible," he continued. "You're playing for the Stanley Cup. If you're not unloading your tanks and putting all your eggs in one basket, then something's wrong."
The Bruins won three of four regular-season meetings, including a 2-1 decision March 27 that saw goalie Tim Thomas make 27 saves. Thomas played in all four regular-season games against the Flyers, finishing with a 1.96 goals-against average and .942 save percentage.
"The biggest difference this year from last year is that Tim Thomas will be in net for them," Flyers defenseman Chris Pronger said. "That's a different element. But it's a new year and two completely different teams … it's apples and oranges. We have to build on what we've accomplished and continue to get better, and you need to continue to elevate your game and not worry about what they're doing."
That's something Laviolette wholeheartedly agrees with.
"I'll stay away from commenting on Boston in the media, commenting on what we're looking to do against them," Laviolette said with a smirk. "I know (Boston coach) Claude Julien is an excellent reader and excellent listener, so I'll stay away from mentioning what we'll try to do or what we'll look to do to prevent them from doing their thing."
After finishing tied for the League lead after one round with 6 playoff goals, Flyers forward Danny Briere is looking forward to the rematch with the Bruins. Briere scoffed at the notion that Boston likely will use last year's setback as motivation heading into Game 1 at Wells Fargo Center (3 p.m. ET, NBC, CBC, RDS).
"It goes both ways," he said. "They're going to use that as motivation, but we also know we're in their heads. That's going to be with them the whole series, so we're using that to our advantage, as well. We know that it's never over … we can always come back. But we'd also like to get off to a better start this time around and not spot them a three-game lead."
The Flyers are 30-34 all-time when facing elimination -- tacking on two more wins against the Sabres in their just-completed quarterfinal-round series. It marked only the third time the Flyers had won a series in which they went down 3-2 after five games. The others were the 2010 Eastern Conference Semifinals against Boston and the 1989 Patrick Division Finals against Pittsburgh.
"We never seem to do anything the easy way and we definitely don't want to go down 3-0 -- let alone 1-0 -- this year," Flyers forward Daniel Carcillo said. "We'll definitely make a conscious effort to play better here at home in this series."
The Flyers were 2-2 on home ice against the Sabres while the Bruins fashioned a 2-1 mark on the road in their seven-game series triumph against the Montreal Canadiens in the conference quarterfinals.
Follow Mike Morreale on Twitter at: @mike_morreale