Floyd Mayweather Is Probably Going To Beat Marcos Maidana, But Don't Bet On It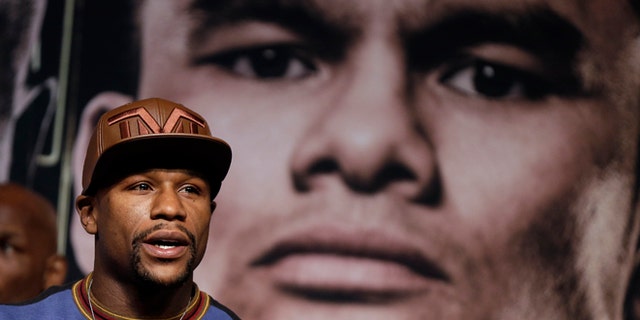 NEWYou can now listen to Fox News articles!
There has never been a better time to bet against Floyd Mayweather Jr.
That has nothing to do with the WBC and The Ring welterweight champion's ability or even the challenger's – the Argentinian Marcos Maidana, who holds the WBA title – nor is it a reflection of Mayweather's actual chance of winning the fight on Saturday night at the MGM Grand in Las Vegas, Nev.
Mayweather (45-0) is the overwhelming betting odds favorite. Part of the reason is that 30-year-old Maidana is known as a big puncher – he is 35-3 with 31 of those wins coming by knockout – just the sort of boxer that the tactical Mayweather has systematically dismantled during his long tenure at the top of the fight game.
Maidana's résumé is also light on top-flight welterweight competition. Since stepping up a weight class in 2012, the only marquee name on his dance card is Adrien Broner.
Of course, Maidana dominated Broner practically from start to finish in a unanimous decision last December, dropping him to the mat twice. And Broner was widely viewed at the time as the likeliest heir to Mayweather's throne.
And even if the oddsmakers aren't taking Maidana very seriously, Mayweather is. Or at least he's training hard and saying all the right things.
"Adrien Broner's a good boxer and he roughed Adrien Broner up and he got the victory," Mayweather told reporters. "So we can't say what this guy can, or he can't do. We cannot overlook the guy."
The champ added, "Everybody thinks he's just going to be a pushover, but I don't think so. That's why I'm training hard and I'm pushing myself to the limit every day."
Mayweather's nickname is "Money," and the base purse for the fight reflects that, with $32 million going his way compared to $1.5 million for Maidana. Amir Kahn, who had been hoping to get the next shot at Mayweather, is fighting in one of the undercard events, and he's getting the same amount as Maidana.
Not sure if that sort of thing might register as disrespect and motivate Maidana, who seems settled into his role as the long shot.
"I've been an underdog my whole life," Maidana told reporters recently. "I was the underdog against Adrien Broner and Victor Ortiz and you saw what happened. I won. I am the underdog again in this fight, but I earned the right to the fight."
In any event, here are a couple of other reasons to think about putting your money on the Argentinian:
1. Age
Every great boxer loses eventually. Skills erode, reflexes slow, pain hurts just a bit more. Mayweather is 37 years old. After turning 37, Muhammad Ali had all of two professional fights, both losses (to Larry Holmes and Trevor Berbick).
Even a marvel of conditioning and endurance like Evander Holyfield had a less-than-impressive 8-7-1 record after turning 37.
2. One Punch
Leonard Ellerbe, the CEO of Mayweather Promotions, at a recent press conference said of Maidana, "When he touches people, he hurts them." He pointed out that Maidana dropped Broner in the second round with a punch that grazed the boxer. "In my opinion," Ellerbe said, "Maidana's the biggest puncher that Floyd has faced until this point."
As the champ ages, the likelihood that lightning will strike and some 100-to-1 shot like Maidana actually lands that one punch that sends Mayweather to the mat increases.
3. The Odds
As of Friday afternoon, if you place a $1,100 bet on Floyd Mayweather to retain his belts, you will turn a profit of $100. That's a 9 percent gain.
One of the golden rules of gambling is that if you're actually going to risk losing your money (even if said risk isn't very big), your investment should promise a higher return of investment than a mutual fund does.
A hundred-dollar bet on Maidana, on the other hand, will net you $750. That's a Facebook IPO kind of return.
4. Burn Out
Mayweather has been talking about retiring for more than five years, even going so far as to declare himself done with the fight game back in 2007. Of course, that didn't last long, but he's talking about it again.
The boxers who are big punchers seem to have a simpler, there's-always-hope sort of outlook about the sport. The thoughtful, tactical ones seem to have one eye on their exit strategy from early on. And Mayweather is nobody's fool.
5. Stuff Happens
People throw out their backs taking an awkward step and sneezing at the same time.
One flu bug entering the champ's system at the wrong moment – late enough that he doesn't realize he's sick, but strong enough to weaken his system – and Mayweather could lose.
For all we know, a literal lightning bolt will find its way inside the arena at the MGM Grand and find Mayweather as he makes his way to the ring.
Stranger things have happened.