Five takeaways: What we learned from the Bank of America 500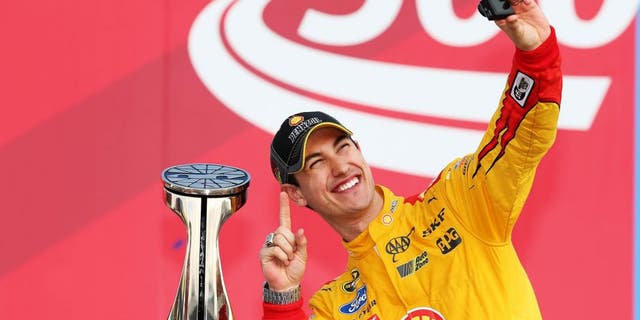 NEWYou can now listen to Fox News articles!
Sunday's Bank of America 500, the opening race to the Contender Round of the Chase for the Sprint Cup, was full of drama and even a few surprises.
Here are the five biggest takeaways from Charlotte Motor Speedway:
1. JoLo Has His Mojo
While the big storyline of the past few weeks and really the past couple months has been the dominance of Joe Gibbs Racing, along with Kevin Harvick's remarkable drive to victory in a must-win scenario last weekend at Dover, Joey Logano has quietly remained a consistent frontrunner. There was nothing quiet about Logano's performance, however, at Charlotte where he basically obliterated the competition -- Harvick and the Gibbs boys included. How stout was Logano on Sunday? He led 227 of 334 laps and was never seriously challenged by second-place Harvick near the end. The best news of all, of course, for Logano is that he can basically coast the next two weekends since his spot in the next Chase round is secure come what may.
2. Junior Is Down, Not Out
Despite Dale Earnhardt Jr. leaving Charlotte 11th among the 12 remaining championship contenders, all is not lost for his chances of moving on the next round. Sure, NASCAR's most popular driver is in a points hole, but the two remaining Contender Round tracks -- Kansas and Talladega -- were awfully kind to driver No. 88 earlier this year. In fact, Earnhardt dominated at Talladega in May and did the same at Daytona in July, and is 2-for-2 in the most recent restrictor-plate races. The bottom line? Even if Junior has just a mediocre day at Kansas next weekend, he has to be the favorite to win the following weekend's elimination race at 'Dega -- where a victory would give him an automatic berth in the Eliminator 8.
3. Matt Kenseth Is In Trouble
Despite Matt Kenseth starting from the pole and leading 72 laps at Charlotte, the day couldn't have gone much worse for the winner of a series-high five races and one of the favorites to win the championship heading into the Chase. After multiple incidents, the 2003 Sprint Cup Series champion limped home in 42nd and now sits a whopping 45 points out of the lead heading to Race No. 2 of the Contender Round. Kenseth's best bet to make the next round is to win next weekend at Kansas, a 1.5-mile track where he's been to Victory Lane multiple times and even won with two different teams. Talladega, site of this round's elimination-race, doesn't bode well for the Joe Gibbs Racing driver. He has just one win in 31 starts at the notoriously unpredictable 2.66-mile track and hasn't been particularly impressive in any of the plate races so far this year.
4. 'Rowdy' Busch Remains Most Resilient Driver
All year long, Kyle Busch has somehow managed to overcome huge hurdles and defy long odds in the face of major adversity. It happened again at Charlotte where a collision with Kyle Larson under caution had the potential to ruin Busch's day and put his back against the wall heading to the next race. But thanks to some repairs to the front of his damaged car by the No. 18 Joe Gibbs Racing crew, Busch finished a respectable 20th, one lap down. Instead of leaving Charlotte with a virtually insurmountable points deficit and possibly facing a must-win situation at one of the next two races, Busch isn't so far down in the points that winning is his only option for advancing. Sitting 10th out of 12 Chase drivers, Busch wouldn't advance based on how the standings look right now, but he's just 10 points behind eighth-place Brad Keselowski, the current bubble driver.
5. Hendrick Drivers Face Uphill Climb
Any way you cut it, it was a miserable afternoon at Charlotte Motor Speedway for Hendrick Motorsports, which placed just one of its four drivers in the top 10 (Jeff Gordon, eighth) and none in the top five. Hendrick's title hopes, of course, rest on the shoulders of Gordon and Dale Earnhardt Jr. -- the only Hendrick drivers in the Contender Round. Although Gordon salvaged a decent day at Charlotte, the No. 24 Chevy lacked the speed to contend for the win -- just as it has pretty much all season. Junior, meanwhile, dealt with all manner of issues en route to a disappointing 28th-place finish. It's now been more than three months since a Hendrick driver last went to Victory Lane. That's a really bad sign for the organization's chances of somehow pulling a rabbit out of the hat in the season's final weeks and making a serious run at the title.
For a comprehensive look at the updated Chase standings after Charlotte, click here.