Five-star prospect says Vol fans louder during UGA game than Auburn fans during Kick Six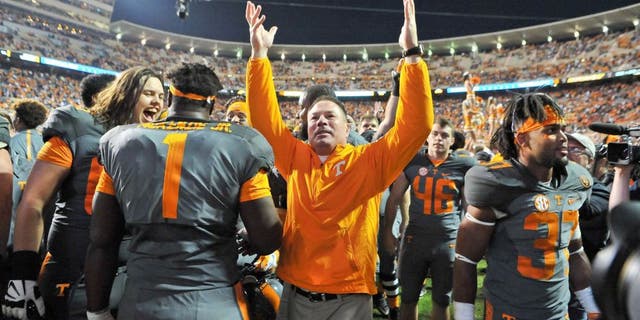 NEWYou can now listen to Fox News articles!
Tennessee's victory over Georgia was huge for so many reasons. The improbable comeback gave life to the Vols' SEC East hopes, quieted criticism of head coach Butch Jones and proved once and for all the young team was ready to finish a big game.
While a big step may have been taken on the field, a number of potentially elite players, several of which are heavily considering both Tennessee and Georgia, were in attendance to take in Tennessee's win.
Undecided recruits in attendance for the game include: 2016 five-star defensive tackle Derrick Brown, 2016 five-star receiver Kyle Davis, 2016 five-star athlete Mecole Hardman, 2016 four-star receiver Donnie Corley, 2016 four-star defensive back Nigel Warrior, Tennessee's top 2017 Trey Smith, 2017 five-star defensive back Lamont Wade and 2018 five-star quarterback Trevor Lawrence to name a few.
Derrick Brown -- Georgia's No. 1 prospect for 2016 according to 247Sports, said to be considering both Georgia and Tennessee as finalists -- spoke to Scout following his unofficial visit to Neyland Stadium and appeared to come away very impressed.
"This visit definitely helped Tennessee," said Brown. "It beat my expectations by a lot.
"It was definitely a great environment Saturday. It is the loudest place I have ever been. After talking to the coaches a little bit after the game, I put my headphones on to listen to music and my ears were still ringing from the noise in the stadium. I could barely hear the music."
Brown even compared his experience to being at Auburn during Chris Davis' famous Kick Six play against Alabama in 2013.
"I was at Auburn a couple of years ago when Chris Davis ran that ball back against Alabama, and it was louder than that."
Could Tennessee have pushed passed the in-state Bulldogs for Brown with the win? Likely not, while the game environment was impressive, the time spent with the Tennessee coaching staff may prove to be the biggest pull for Brown.
MORE NEWS: Want stories delivered to you? Sign up for our College Football newsletters.
"They just keep telling me they want me to be a part of it there at Tennessee," said Brown. "They have told me it is about family there, not about individuals, and I see that."