Five Giants facing a make-or-break season in 2015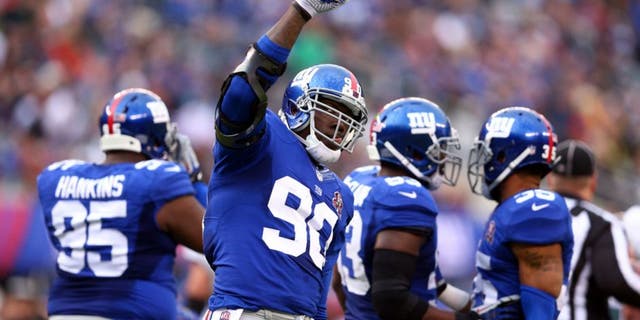 NEWYou can now listen to Fox News articles!
The NFL is an unforgiving league and the nickname "not for long" league didn't just come out of nowhere. Due to the NFL's strict salary cap, player movement is fluid from season to season, and sometimes week to week.
The New York Giants have built their roster for the 2015 season, but the future of their roster is in part tied to the contracts they have already signed. With several key impending free agents like Eli Manning, Prince Amukamara, Jason Pierre-Paul, and Rueben Randle, among others, the Giants' 2016 roster is sure to look a lot different than it does now.
The following five players will need to step up and meet or exceed expectations in 2015 if they want to remain members of the Giants in 2016.
Jason Pierre-Paul
The talented but troubled defensive end finished the 2014 season on a tear, compiling nine of his 12.5 total sacks over the Giants' last five games of the regular season. This prompted the Giants to extend the $14.8 million franchise tender to Pierre-Paul as the sides negotiated a long-term deal. Pierre-Paul skipped spring practices with the team, but he was staying in top shape down in Florida. A freak fireworks accident on July 4th caused Pierre-Paul to have his right index finger amputated on and he also fractured his thumb.
The Giants are hoping to have him back for the 2015 season, but until now, he has provided the Giants' medical team with very little information on his recovery process. If Pierre-Paul does return to the field, it is difficult to predict how he will play. While former players at other positions have played down a finger, Pierre-Paul plays a position where hand use is vital on every play.
The Giants are always investing in the defensive line, and they have two promising young defensive ends who will both remain under their rookie contract in 2016—Damontre Moore and Owa Odighizuwa. In addition to these two, former undrafted free agent Kerry Wynn made some noise at defensive end at the end of the 2014 regular season, and he is joined on the line by 2015 free agent acquisition George Selvie. Robert Ayers was the Giants' most productive pass rusher on a per snaps basis in 2014, according to Pro Football Focus, and he is also set to become a free agent.
If Pierre-Paul can't return to form, the Giants could simply opt to extend a multi-year contract to Ayers instead. Although Ayers is over two and a half years older, and a considerably worse players against the run, he could prove to be a more effective player overall at this stage of their careers.
Jon Beason
Ideally, the Giants would love to keep Beason around for the entirety of his contract. When healthy, Beason is the quarterback of the defense. He's smart, instinctive and excellent against the run. He can also hold his own in pass coverage, for the most part. Beason's issue has been staying healthy. Over the last four seasons, Beason has played in just 24-of-64 regular season games.
Beason claims to be 100 percent healthy from the toe injury the sapped his explosion in 2014, and he even admitted that he felt the best he has in four years. The key will be whether or not Beason can feel and be just as healthy in December or even January. The veteran linebacker turned 30 years old this past January.
Beason is set to count roughly $6.57 million against the 2016 salary cap. This is currently the fourth-highest cap number of anyone currently on the roster for the 2016 season. The Giants can recoup $5.1 million in cap space if they release him before June 1st.
Beason's future is a bit more difficult to predict. Although the Giants can cut him without leaving too much dead money on the table, they haven't exactly found a potential replacement middle linebacker. Projected starting outside linebackers Devon Kennard and J.T. Thomas could see some work in the middle, but they are best-suited to play on the outside. Inside linebackers currently on the roster, Jameel McClain and Mark Herzlich, belong in their reserve roles.
Rueben Randle
Randle is entering his fourth season with the Giants, and he is coming off a season where he produced career highs in receptions (71) and receiving yards (998). The green light came on for Randle over the final stretch of the 2014 season, when he admittedly felt more comfortable in Ben McAdoo's offense. All offseason reports have been effusive in their praise of Randle, spanning from Eli Manning to wide receivers coach Sean Ryan.
Before we can anoint him a core member of the offense, Randle will have to prove that he can be consistent on a week to week basis. Despite the fact that Cruz's injury made him the de facto No. 2 option in the passing game, Randle struggled at times in 2014. He finished the season with nine games under 50 yards receiving.
The extra defensive attention given to the other Giants skill players should leave Randle with a majority of one-on-one matchups with a defensive back. He will need to win those more consistently in 2015. Randle is set to become an unrestricted free agent at the end of 2015, as his rookie contract is set to expire. If he can prove that the offseason hype is for real, Randle might find himself a long-term home with the Giants.
If the Giants opt to invest in Randle long-term, it will likely mean the end of Victor Cruz's tenure with the team. The Giants simply can't afford to pay Randle and Cruz with Odell Beckham Jr.'s mega-contract on the horizon.
Will Beatty
Before the 2014 season, there were whispers that the Giants would look to get out of Beatty's contract. After struggling in 2013, Beatty bounced back with one of his best seasons in the NFL in 2014—he finished as Pro Football Focus' 12th-best left tackle overall. He fit right into what Ben McAdoo was looking for in an offensive tackle for his scheme.
In May, when Beatty was going through a routine weight lifting exercise, he tore his pectoral muscle. Beatty will be out until at least mid-October, and potentaly into November of the 2015 regular season. It might be difficult for him to regain upper body strength in time to make a similar impact in 2015 on a per game basis as he did last season.
The Giants also opted to use their ninth overall selection in the 2015 draft on their left tackle of the future in Ereck Flowers. The rookie is slated to start at left tackle right away. If he makes an immediate impact, Beatty's role on the offense could get murky. Beatty's build and skill set make him best-suited to play the left side. Although the Giants likely believe Flowers can play both sides, if he stands out at left tackle, it might be difficult to make a change.
Beatty is set to count $9.175 million against the 2016 salary cap. This is the second-highest cap number of anyone currently on the roster in 2016. The Giants would only recoup $4.175 million of that cap space for 2016 if they release him before June 1st. Beatty's roster spot in 2016 will likely depend on how he returns from injury in 2015 and how well Flowers plays in his absence.
Victor Cruz
Cruz will not be a popular name to see on this list, but there is no guarantee that he will be a piece of the puzzle for the Giants in 2016. All signs are positive so far in Cruz's recovery, and he has participated in a larger portion of training camp practices than anyone has expected. However, the patella tendon injury he is attempting to recover from is a tricky one. In the past, it has sapped athletes of their quick-twitch lateral agility.
Cruz has impressed through the Giants' first few training camp practices, but until the pads come on and we see him in live game action, it's difficult to get an accurate read. Even if Cruz stays healthy, there is no guarantee that he can still create separation at such an elite level. If he returns as a mid-pack possession wide receiver, the Giants will be faced with a tough decision.
Cruz is a role model within the organization and a leader among the wide receiver corps, but he also carries a whopping $9.90 million salary cap hit in 2016. This is the highest cap number of anyone currently on the roster in 2016. If the Giants were to release him before June 1st, they would recoup $6.1 million in 2016 cap space. With a talented and somewhat deep receiver corps behind him, the Giants could opt to allocate that cap to a weaker position group if Cruz is no longer a difference maker on the offensive end.
For more on the New York Giants and the rest of the NFC East, you can find Dan on Twitter @DanSchneierNFL. You can also check out all of the FOX Sports NFC East team pages for live updates and analysis.