Five Bears wide receivers who could step up with White, Jeffery out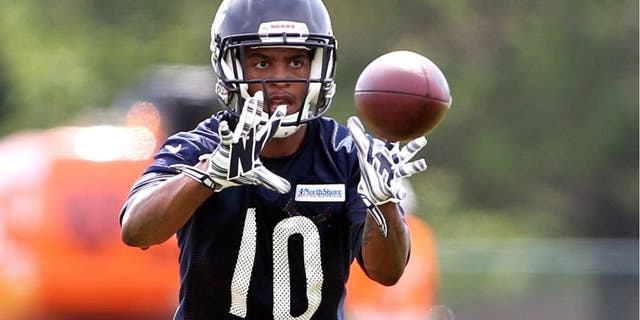 The Chicago Bears are experiencing a concerning situation at wide receiver.
Brandon Marshall was dealt to the New York Jets this spring, opening the door for Alshon Jeffery to officially take over as the team's No. 1 receiver. Jeffery is currently dealing with a "mild calf strain," ESPN's Adam Schefter reports, but the injury is not expected to keep him sidelined longer than a week.
First-round rookie Kevin White is dealing with a more serious lower leg injury. He is having surgery on his left shin to repair a stress fracture, according to the Associated Press, and could miss the entire season.
The uncertainty at the position may be solved, if Bears quarterback Jay Cutler spreads his pass targets and gives these five pass-catchers a chance to step up.
Eddie Royal
The Bears signed Royal in free agency, adding a speedy veteran to the receiving corps. He played with Cutler as a rookie, when they were with the Denver Borncos. Royal posted career-best reception (91) and yardage (980) figures, and Cutler made the Pro Bowl that year.
Royal, 29, has spent the last three seasons with the San Diego Chargers. Although he's not the biggest target (5-10, 185 lbs.), he can still be lethal working out of the slot. Royal may be on the rise, too -- 15 of his 25 career touchdowns have come in the last two seasons.
Marquess Wilson
The Bears may be hoping for a breakout from Wilson, who was selected in the seventh round of the 2013 NFL Draft. He earned a handful of starts late last season but only contributed 17 receptions for 140 yards and one touchdown.
Wilson is still very young (he turns 23 next month), and he's one of the team's tallest wide receivers at 6-foot-4. He is listed as a second-stringer on the unofficial depth chart and is expected to play a "significant role on offense" with White out of the lineup, according to ESPN's Jeff Dickerson.
Joshua Bellamy
Bellamy has bounced between practice squads and active rosters, spending time with the Kansas City Chiefs, Washington Redskins, San Diego Chargers and Bears since entering the league as an undrafted free agent in 2012. He has only appeared in 12 games through three seasons and has never recorded a reception.
This might be just the break Bellamy, 26, needs to finally make an impact as a pass-catcher. With Jeffery and White out of the lineup, the 6-foot, 208-pound former Louisville Cardinal has received first-team reps with Royal and Wilson, according to Jake Perper of Bears Backer.
Cameron Meredith
Meredith was not selected in this year's draft, so the local product signed with the Bears as a free agent this spring. He is a converted quarterback who helped Illinois State reach the FCS Championship game last season.
The Bears' first preseason game served as a decent debut for Meredith. He led the team with four receptions for 47 yards, showing off his youth (23 years old) and size (6-3, 200 lbs.) on a big stage. If he catches onto the professional game quickly, Meredith could develop into a surprise contributor this season.
Jeremy Kelley
The Bears' questions at wide receiver have led to the signing of Kelley over the weekend, according to James Neveau of NBC Chicago. He's by far the biggest long shot listed here, since he's just joining the team and has more Canadian and Arena Football League experience than he does in the NFL.
Kelley, 27, went undrafted out of Maine in 2010. The only significant advantage he holds over the rest of the Bear's wide receivers is his size (6-6, 231 lbs.). A body that big is bound to stand out, so he should be an easy target to find for a quarterback in distress.
*All statistical information courtesy of the ChicagoBears.com.