Fit for 'The King': Almirola to run 1972 Petty STP scheme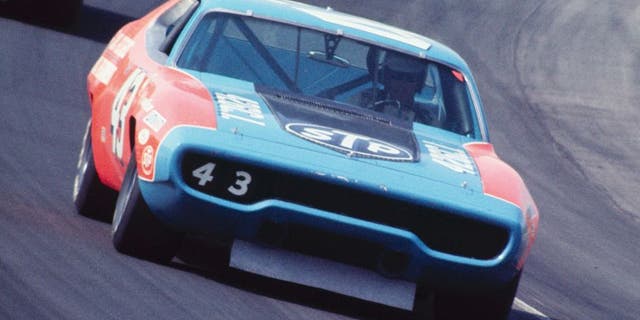 It's a paint scheme that's fit for "The King."
On Thursday, Richard Petty Motorsports and STP announced that Aric Almiora will be running a 1972 "Petty Blue" and Day-Glo Red paint scheme on the No. 43 Ford Fusion at Darlington Raceway.
"When you think throwback racing, you think STP and 'The King'," said Almirola. "It's really special to drive a car with so much history and such an iconic car of that time. The 1972 paint scheme was very popular, and it will be really cool to drive in a race that embraces the history of our sport."
1972 marked the first year of the longstanding relationship between STP and Petty. It's also the first year that the No. 43 sported Day-Glo Red on the quarter panels.
"It will be neat to see the car that started our partnership with STP 43 years ago back on track at Darlington," said Petty. "It will be fun to see all the throwback schemes racing at Darlington and on Labor Day Weekend. It just feels right to have the Southern 500 back to Labor Day Weekend and is fitting that we celebrate tradition there with throwback paint schemes."
Other drivers have also been revealing what retro paint scheme they'll be running for the special throwback weekend:
Clint Bowyer: No. 15 5-Hour Energy Toyota Camry
Kurt Busch: No. 41 Haas Automation Chevrolet SS
Landon Cassill: No. 40 Snap Fitness Chevrolet SS
Austin Dillon: No. 3 Chevrolet SS
Dale Earnhardt Jr.: No. 88 Valvoline Chevrolet SS
Chase Elliott: No. 25 NAPA AUTO PARTS Chevrolet SS
Denny Hamlin: No. 11 Sport Clips Toyota Camry
Kevin Harvick: No. 4 Budweiser Chevrolet SS
Ryan Newman: No. 31 Caterpillar Chevrolet SS
Danica Patrick: No. 10 GoDaddy Chevrolet SS
Ricky Stenhouse Jr.: No. 17 Cargill Ford Fusion
Tony Stewart: No. 14 Bass Pro Shops/Mobil 1 Chevrolet SS