FINALS WATCH: O'Connell: 35 Final Fours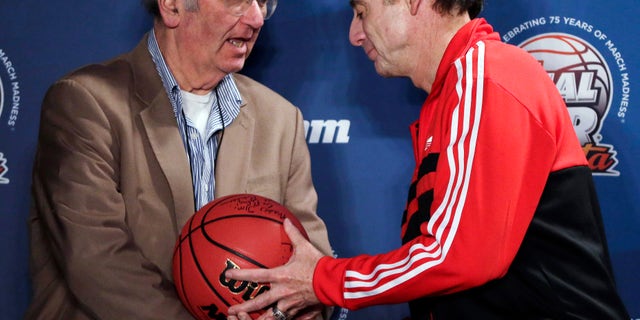 ATLANTA – Covering his 35th Final Four, AP Basketball Writer Jim O'Connell was honored by the NCAA and the Final Four coaches today in Atlanta.
Louisville coach Rick Pitino presented the man many call "Oc" with a basketball the Final Four coaching brethren: Pitino, Jim Boeheim, John Beilein and Gregg Marshall.
"Jimmy. The Best," was the message Boeheim wrote.
Reporters gave O'Connell a standing ovation at the ceremony, held during Sunday's interview sessions to preview the national title game.
A pretty cool moment for our veteran, who began his run at the 1979 Final Four. You may remember 1979 as the year Larry Bird faced off with Magic Johnson.
On Monday, the 35th anniversary of that classic game, Louisville plays Michigan and O'Connell will be at his normal station, on press row, breaking it down the way only he can.
— Eddie Pells — http://twitter.com/@epells
___
NCAA Finals Watch follows the Final Four games and all the activities surrounding the event as seen by journalists from The Associated Press from across Atlanta. It will be updated throughout the day with breaking news and other items of interest. Follow AP reporters on Twitter where available.