Finally healthy, Ladendorf relieved to be back with A's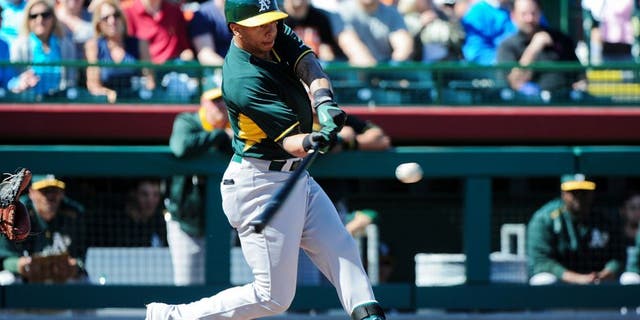 NEWYou can now listen to Fox News articles!
Tyler Ladendorf began the 2015 season on the Oakland Athletics' 25-man roster, a testament to a strong spring and the resilience that the 27-year-old infielder has shown throughout his career.
Demoted a week into the season to free up roster space, Ladendorf then suffered a serious ankle sprain with Triple-A Nashville. The setback more or less derailed his season and prevented him from making any more trips to the big leagues until September 1, when the A's recalled him as rosters expanded.
As he told Joe Stiglich of CSN Bay Area on Tuesday, he's happy to have had the opportunity to make a reappearance with the A's this season: "It's no different than going through the minor leagues. I just want to get on the field. I just want to be out there and contribute. I'm just glad to be back."
When the A's initially optioned Ladendorf to facilitate the return of Josh Reddick off the 15-day disabled list in April, they did so with hopes of recalling him at some point in the future...but his ankle injury made that impossible. Still, he told Stiglich the demotion actually felt worse than the injury: "To be honest with you, getting sent down was more deflating," he said, adding that, "It's the first time I've ever experienced that."
While it's unclear right now where (or if) Ladendorf fits into the A's 2016 plans, he at least has the next month to prove his worth to the club - especially now that he's finally healthy and ready to contribute.